The Pennsylvania Music Educators Association (PMEA) State Council for Teacher Training, Recruitment, and Retention (Council TTRR) is comprised of representation from PMEA higher education members and leadership from HS Future Music Educators Honors Symposium, PCMEA, mentors, Society for Music Teacher Education, TRI-M, retired members, and the PA Department of Education Fine Arts Education Consultant. With a focus on "the life cycle of a music educator," it serves as an advisory committee for other PMEA councils as it seeks and proposes programs or resources for the career development of pre-college, pre-service, first-year through veteran, and retired PA music teachers.
The Council TTRR three subcommittees announced the following Focus Areas and Goals for 2017-2022:
Virtual Music Learning – Engaging Students Online
Also visit Preparing for the Future
(Download documents first for quick/click access to URLs)
For a guided tour, check out this "Quick-Start" video.
Model Code of Ethics for Educators
"Motion from the PMEA TTRR Council: the PMEA State Board officially adopt the Model Code of Ethics for Educators (MCEE) as published by the National Association of State Directors of Teacher Education and Certification, and furthermore, will provide professional development on the MCEE in future workshops and conference sessions."

 

Passed unanimously at the Virtual Meeting of the PMEA Board on July 20, 2020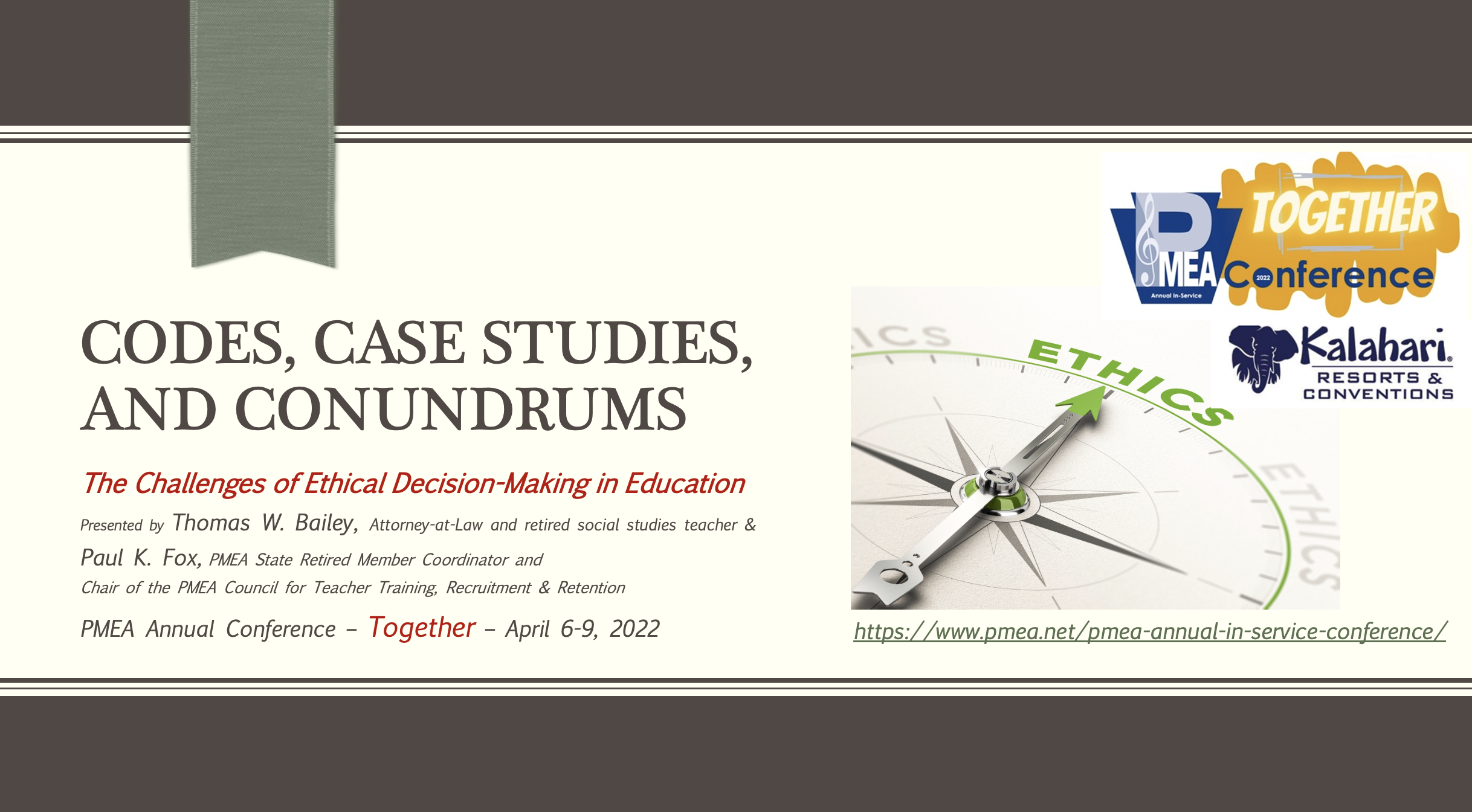 SLIDES and LINKS: Codes, Case Studies, and Conundrums PMEA Conference 4/7/22
Copy of revised PA Code of Professional Practice and Conduct
PDE Educator Ethics Law Update to the PMEA Board 7/17/23
Takeaway/Slides/Links for April 21, 2021 session by Paul Fox
Do you have 27 minutes to spare on the subject of ethics in education?
View this video on PMEA's Adoption of the Model Code of Ethics for Educators.
2021 TEACHER ETHICS WEBINARS 
Part I "The Basics" on January 12, 2021 at 7 p.m.
Part II "Going Beyond" on February 9, 2021 at 7 p.m.
(See webinar page for access to workshop videos)
Model Code of Ethics for Educators
Mock Interview Volunteers
Several PMEA members have indicated they are interested and available to serve as "virtual employment screeners" for interview practice workshops of music education majors. Higher Education members or PCMEA chapter advisors should contact these people directly for their help in mock "question and answer" sessions to help prepare collegiates for marketing themselves during the coming job search process. (Please email Paul Fox if you would like your name and email added to this list.)
Sample interview questions and assessment rubrics
TTRR Advisors
Feel free to contact these volunteer specialists for inquiries or additional information:
"New Realities in Teacher Training" SEADAE, PAEA, and PSBA Conference Handout (2018)
What in the World is the PMEA Council TTRR?
Superintendent Survey
Resources
The following resources are provided for students (and their teachers) to assist in the pre-college training and preparation of potential future music education majors.
Catalog of supplemental materials for music teacher training, recruitment, and retention:
Document Archives