Music in our Schools Month – March, 2022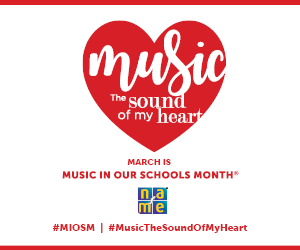 Performances at the Pennsylvania State Capitol during the month of March will NOT take place during 2022 as the building will remain closed to outside organizations. PMEA is hopeful we will be able to return to in-person performances in 2023.
MIOSM, however, is more than concerts at the Capitol. We encourage all of our members to participate in some manner to emphasize to their students and communities the importance of music education. NAfME will continue using the theme Music: The Sound of My Heart and asks that we celebrate how music teachers our hearts every day.
NAfME's Council for General Music Education is working on 2022 lesson plans for 3rd grade. For past lesson plans and additional materials, please visit NAfME's MIOSM webpage. 
Questions or have MIOSM pictures and ideas to share? Contact MIOSM Chair Chuck Neidhardt. 
The Pennsylvania Music Educators Association (PMEA) and the National Association for Music Education (NAfME) recognize March as the thirty-seventh annual Music In Our Schools Month (MIOSM®). Since 1985, MIOSM has been observed as a yearly month-long celebration when schools and communities celebrate music in their local schools and the educators who dedicate themselves to bringing music into the lives of students every day.
Every day, in music programs across the United States, music educators dedicate themselves to reaching all students with life-changing musical experiences. What parents, administrators, and the wider community have not always had the opportunity to observe, however, is the months of practice and rehearsals, and the process of learning that takes place in the music classroom-whether virtual or distanced in person.