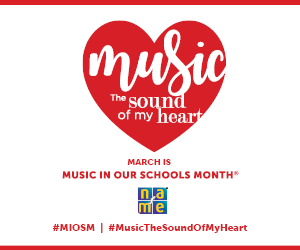 View Performances from Pennsylvania Music Ensembles During March 2021
This March, music educators and music students will be celebrating music education in their school communities demonstrating how "Music. The Sound of My Heart" resonates with them. This is the theme of the 2021 observance of Music In Our Schools Month®. The impact of music education on the lives of students during this particular school year, unlike any other, is evident in how the social-emotional benefits have carried them through the pandemic and brought joy in their communities.
In Pennsylvania, an annual tradition is for student performing groups to visit Harrisburg and perform in the state capitol building.  Even though those groups can't perform in Harrisburg in person this year, some have provided performances videos that will premiere throughout March.  We invite you to view these concerts just as you would if the students were performing live in the Capitol Rotunda.
All performances will be available on PMEA's YouTube page. 
March 10, 2021 12 pm – Mansfield University Concert Choir
March 17, 2021 12 pm – Downingtown High School East Choir
March 18, 2021 12 pm – United Junior/Senior High School Senior Chorus
March 23, 2021 12 pm – Nazareth Area High School Choir
March 24, 2021 12 pm – West Chester University Wind Ensemble
March 25, 2021 12 pm – Clarion-Limestone High School C-L Six Strings
March 31, 2021 12 pm – Chartiers Valley High School Orchestra
The Pennsylvania Music Educators Association (PMEA) and the National Association for Music Education (NAfME) recognize March as the thirty-sixth annual Music In Our Schools Month (MIOSM®). Since 1985, MIOSM has been observed as a yearly month-long celebration when schools and communities celebrate music in their local schools and the educators who dedicate themselves to bringing music into the lives of students every day.
Every day, in music programs across the United States, music educators dedicate themselves to reaching all students with life-changing musical experiences. What parents, administrators, and the wider community have not always had the opportunity to observe, however, is the months of practice and rehearsals, and the process of learning that takes place in the music classroom-whether virtual or distanced in person.
###
The Pennsylvania Music Educators Association (PMEA) is a statewide nonprofit organization of over 4,000 members, dedicated to promoting the musical development of all Pennsylvanians. The present membership evolved from a small group of band directors dating from 1933. Today, the organization includes those engaged in music instruction at all levels, from preschool through college and university, as well as those in the music industry, merchandising and publishing. The organization promotes and supports quality music education, learning and performance as well as promoting and supporting music education in schools and communities. PMEA is affiliated with The National Association for Music Education, NAfME.