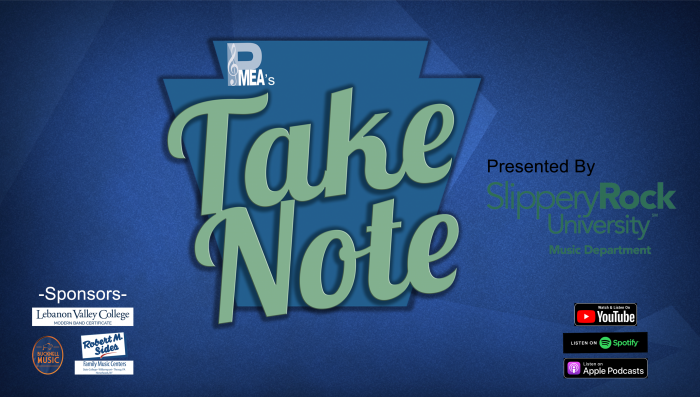 PMEA's Take Note Podcast is a look into notable names in music education, stories from across Pennsylvania, and news you can use.
Take Note is presented by the Slippery Rock University Music Department.
Other sponsors are Bucknell University's Music Department, Lebanon Valley College, and Robert M. Sides Family Music Centers.
5/13/21 – Dr. Jason Worzbyt, Indiana University of Pennsylvania
4/27/21 – A History of Jazz in Pittsburgh with Karen Cole
4/7/21 – Previewing The PMEA Annual Conference with Phil Stattel and Debbie Chrisman
3/16/21 – SPECIAL EDITION: PMEA Music Education Day and PA Representative Eddie Day Pashinski
3/4/21 – Chris Martin, CEO, C.F. Martin & Co.
2/22/21 – Becky and Joe Sensor – Music Educators, Dubois Area Middle School
2/9/21 – Dr. Marci Major – Music Service Learning
Learn more at www.musicservicelearning.org
1/27/21 – Phil Stattel and Tina Bennett – PMEA Leadership
1/21/21 – Byron Stripling, Principal Pops Conductor, Pittsburgh Symphony Orchestra