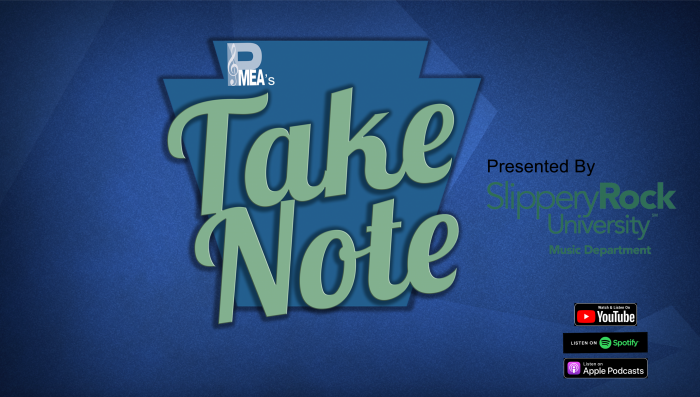 PMEA's Take Note Podcast is a look into notable names in music education, stories from across Pennsylvania, and news you can use.
Take Note is presented by the Slippery Rock University Music Department.
 10/20/21 – The 2021 Bands of America Season and a Pennsylvania Band Participating
9/27/21 – Chiho Feindler, Save The Music Foundation
Save The Music Resource Page
Social Emotional Learning Webinar Series
9/20/21 – Joel Menchey, Menchey Music Service and NAMM
8/31/21 – Adam Brock, Author of "My Song To Sing"
8/26/21 – PMEA's First Day of Service with the Reading Musical Foundation 
7/29/21 – Real Life Advocacy Advice from PMEA Member, Tina Bennett
7/9/21 – Steve Rondinaro from Drum Corps International
6/30/21 – Previewing The 2021 Summer Conference
6/28/21 – Julie Duty from United Sound

6/14/21 – Make Music Day

5/13/21 – Dr. Jason Worzbyt, Indiana University of Pennsylvania
4/27/21 – A History of Jazz in Pittsburgh with Karen Cole
4/7/21 – Previewing The PMEA Annual Conference with Phil Stattel and Debbie Chrisman
3/16/21 – SPECIAL EDITION: PMEA Music Education Day and PA Representative Eddie Day Pashinski
3/4/21 – Chris Martin, CEO, C.F. Martin & Co.
2/22/21 – Becky and Joe Sensor – Music Educators, Dubois Area Middle School
2/9/21 – Dr. Marci Major – Music Service Learning
Learn more at www.musicservicelearning.org
1/27/21 – Phil Stattel and Tina Bennett – PMEA Leadership
1/21/21 – Byron Stripling, Principal Pops Conductor, Pittsburgh Symphony Orchestra