To submit your community happenings announcement for consideration, please email details to info@pmea.net. Please send information at least two weeks in advance of the event.
For Professional Development hosted by PMEA or NAfME, see the Professional Development Opportunities page of the PMEA Website.
---
Susquehanna University Summer Music Institute
The Department of Music at Susquehanna invites gifted high school musicians in grades 9-12 to campus for a residential pre-college program. This newly imagined, collaborative music institute provides a creative and encouraging environment for young musicians. Ideal participants are those who exhibit dedication, creativity, curiosity and passion for excellence in music.
This weeklong program offers opportunities and resources for young musicians to realize their passion and prepare for meaningful lives in the arts. Join us at Susquehanna to grow through lessons, studio classes and coaching sessions with expert Susquehanna faculty members, and gain ample performance opportunities.
Wind Ensemble Track – under the direction of Eric L. Hinton
Choral Track – under the direction of Amy Voorhees
Keyboard & Strings Track – under the direction of Jaime Namminga
https://www.susqu.edu/academics/summer-pre-college-programs/summer-music-institute/
---
Susquehanna Chorale Auditions
Press Release for Susquehanna Chorale EOP AUDITIONS
Susquehanna Children's Chorale Auditions
Susquehanna Adult Chorale Auditions:
---
Messiah Summer Vocal Academy
The Summer Vocal Academy, sponsored by the Messiah University Department of Music, offers an exciting opportunity for students entering grades 9 through graduated high school seniors from June 15-18, 2022. This is a summer performance program held on the scenic, suburban campus of Messiah University, located just 12 miles from Harrisburg, PA.
Student musicians will sing each day in a large choral ensemble under the leadership of Dr. Joy Meade, Messiah's Director of Choral Activities, as well as sing in smaller, student-led vocal chamber ensembles.  Student musicians will all take individual voice lessons with our voice faculty, Dr. Damian Savarino and Professor Tara Savarino, where they will learn new techniques, polish old ones, perform and work on issues specific to their voice.   Students will also attend daily workshops and masterclasses led by expert artist-teachers on a range of voice-related topics, from music theater, acting, audition preparation, vocal health and more. Each day during a portion of the choral rehearsals, the students will have a musicianship class where they will explore many aspects of music making using their voices, ears, minds and bodies.  Fun social events are planned each day of the Academy for students to make friends and enjoy the beauty and fun of Messiah University's campus in the summer.  The Summer Vocal Academy ends with a two final performances: a vocal showcase featuring our solo singers, and a choral showcase featuring the Academy Choir and vocal chamber ensembles.  These concerts are free and open to the public.
https://www.messiah.edu/homepage/4110/summer_vocal_academy
---
Susquehanna Chorale A Celebration in Song
The Susquehanna Chorale is continuing its 40th Anniversary Legacy season in May with two live performances of their spring program entitled A Celebration in Song!
Performances are on Friday, May 13, 2022 at 8 p.m. at the Derry Presbyterian Church, Hershey; and Sunday, May 15, 2022 at 4 p.m. at the High Center, Messiah University, Mechanicsburg. Tickets for both may be purchased through the Messiah University Box Office, and audience members are invited to a reception following each performance.  Tickets can be found online here: https://www.susquehannachorale.org/performances?utm_source=calendar&utm_medium=web&utm_campaign=s22concerts&utm_id=s22
For more information, view the Spring Press release 2021-2022.
---
9th International Symposium on Assessment in Music Education
Dear Colleague,
My name is Marshall Haning, and I am the Chair of the 9th International Symposium on Assessment in Music Education, which will take place March 20th-22nd, 2023 in Hannover, Germany.  This event is jointly hosted by the University of Florida and the Hochschule für Musik, Theater und Medien (University of Music, Theatre, and Media, Hannover, Germany).  The Symposium will bring together scholars from around the world to discuss research and best practices related to assessment in music education settings.
As a part of the mission of the ISAME symposia, we seek input from practicing music educators and those involved in the creation of music education policy to provide a broader view of the research and practice of music education assessment.  Attached to this email is the ISAME9 Call for Submissions for the conference.  If possible we would ask that you distribute this call to your membership, or publicize it in any other way that you feel appropriate.  We very much hope to have a wide range of music education stakeholders and practitioners represented at the conference.
Registration information and additional details about the conference can be found at https://reg.conferences.dce.ufl.edu/isame.  If you or your members have any questions, please do not hesitate to reach out to ISAME9@aa.ufl.edu.
Thank you in advance for your assistance, and we hope to see you at ISAME9!
---
33rd Annual Ogontz Choral Workshop
The 33rd Annual Ogontz Choral Workshop, August 7 – 13, is an extraordinary opportunity for singers, choral directors, and church musicians. The event returns this year to Ogontz Camp, a rustic resort renowned for its exceptional food, beautiful natural setting, and warm hospitality, in Lyman, NH.
Note: Several $400 grants are available for music teachers completing their first or second year of teaching. Details and application procedures are posted on the Ogontz Arts website. Deadline for application is April 20.
This year's repertoire includes:
Ralph Vaughan Williams: Toward The Unknown Region (1907)
Vaughan Williams: Mass in g minor (1921)
Johannes Brahms: Vier Quartette, Op. 92 (1884)
Singers will be led by David Hill, MBE, one of Europe's leading directors and conductor of London's Bach Choir and Yale University's Schola Cantorum. Voice clinician Paula Rockwell, Professor of Music at Acadia University, provides instruction in vocal technique, master classes, and a stunning solo recital.
Visit http://ogontzarts.com for complete details. Register by April 30 to take advantage of the $50 Early Bird Discount.
Follow Ogontz Arts on Facebook for special announcements and to view photo albums of past workshops.
Questions: Contact Claire Mead at claire@ogontzarts.com or 215-962-2998.
---
Beginning Music Teacher Bootcamp
Description: The second event caters to the needs of new music teachers ranging from those enrolled in undergraduate music education program to in-service teachers in their first three – five years in the profession. The topics will be catered to the needs of the attending new teachers including discussing pedagogy, lesson planning, rehearsal strategies, and mentoring.
Instructors
Dr. Jessica Vaughan-Marra
(Seton Hill University – Coordinator of Music Education) 
Dr. Chris Marra
(Seton Hill University – Director of Instrumental Activities)
Event Date: August 2nd, 2022 
Schedule: 9am – 4 pm
---
Summer General Music Workshop
Description: The third event is a two-day workshop on practices and strategies from Orff, Kodaly, Music Learning Theory, and Dalcroze Eurhythmics. The workshop is a great opportunity for local educators wanting to identify a few lessons and curricular ideas for the upcoming school year. Enrollment is open now and we hope to see you there! 
Day One Schedule
9:00 am – 10:30 am (session 1)  Charlotte Rudolph (Orff topic)
10:45 am -12:15 pm (session 2)  Charlotte Rudolph (Orff topic)
12:15-1:15 Lunch break
1:15-2:45 pm (session 3) Jaime Rea (Dalcroze topic)
3:00 – 4:30 pm (session 4)  Jessica Vaughan-Marra (Special Topic)
Day Two Schedule
9:00 am -10:30 am (session 5)  Dave Verno (Kodaly topic)
10:45 am – 12:15 pm (session 6) Dave Verno (Kodaly topic)
12:15-1:15 Lunch break
1:15-2:45 pm (session 7) Shawn Funk (Special topic)
3:00 – 4:30 pm (session 8)  Jessica Vaughan-Marra (Special Topic)
---
The Gordon Institute for Music Learning Professional Development Levels Course – Elementary General Music Level 1
Dates: July 11-22, 2022 
Times: 9:00 AM – 5:00 PM. (Monday through Friday)
Location
Seton Hill University Performing Arts Center
100 Harrison Avenue
Greensburg, PA 15601
Event Description: This two-week intensive workshop in July and focuses on pedagogy for integrating Music Learning Theory (MLT) into elementary general music curricula. This is great for anyone (including undergraduate music education majors) interested in learning more about MLT and this approach to general music education. Integrating the approaches presented in this workshop positively impact active and social music making with the general music curriculum. 
Instructors & Host
Jen Doiron (Burnham School) 
Dr. Jill Reese (SUNY Fredonia) 
Dr. Jessica Vaughan-Marra (Seton Hill University – Faculty Advisor & Site Supervisor)
SHU summer Music Ed workshops 2022
---
First State Chamber Orchestra Institute
FSCOI will be held July 25-30, 2022 in partnership with Coastal Concerts and The Delaware Symphony Orchestra in Lewes, Delaware. Students will participate in a full chamber orchestra, small chamber music ensembles and receive instruction specific to their instrument. The Institute will culminate in a concert at the end of the week alongside Delaware Symphony Orchestra musicians for the Lewes community. An audition is required for admission and ensemble placement.
For information about how to apply, audition requirements, tuition cost and all other FSCOI details, please visit our website. We are looking forward to a rewarding musical summer of chamber music. We would love to speak to you more about this wonderful program and have your string musicians participate. https://sites.google.com/view/firststatecoi/home
---
Philadelphia Orchestra Presents Music from Around the World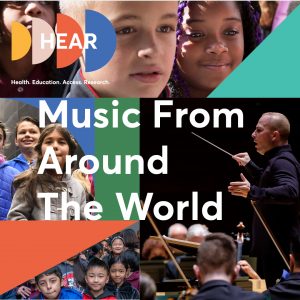 On March 1, 2022, The Philadelphia Orchestra will release our second Virtual School Concert Experience, Music From Around the World, with unique distance learning materials for teachers. This virtual experience is the ideal way to expose students to the exciting and powerful art form of orchestral music. Last year's concert was viewed in schools in 18 countries, 39 states, and 146 schools across the Commonwealth. Registration is currently open for FREE access to the Virtual School Concert Experience and all supplemental teacher resources at philorch.org/schoolconcerts.  
We're also excited to presents an all-digital season of our popular family-friendly concert series, Sound All Around, hosted by Philadelphia Orchestra Storyteller, Narrator, and Host Charlotte Blake Alston. These concerts introduce young learners to a member of the string, woodwind, brass, or percussion family and are a great way for kids, families, daycares, and school groups to have fun with music from the comfort of their own home. Principal Timpani Don Liuzzi and horn player Ernesto Tovar Torres and join Ms. Alston to introduce the French horn and the percussion instruments in our first two videos. For more information, please visit https://www.philorch.org/performances/special-performances/sound-all-around/.
---
Singing Equality across America and Around the World  
World Unity Inc. is spearheading a program, "Singing Equality across America and around the World."  The song, "We All See the Star," by John Ciambriello was performed at the United Nations in 2015 and it inspired the program.
The song is available in three keys and backtracks, register for the music sheets at : www.worldunityinc.org
View video of 800 children singing song and performing verse in sign language at: http://worldunityinc.org/800children.html
The audio/video library has a video of two women performing the song in sign language.  It's the 6th video.
Click here: http://worldunityinc.org/youtube.html
Simple lesson plan available, attached are some of the responses from students to questions in a discussion.