To submit your community happenings announcement for consideration, please fill out this form.
For Professional Development hosted by PMEA or NAfME, see the Professional Development Opportunities page of the PMEA Website.
---
Susquehanna Chorale Youth Choral Festival
The critically-acclaimed Susquehanna Chorale and three of its educational choirs will present the Chorale's annual Youth Choral Festival on Sunday, Nov. 20, at 4:00 p.m. at the Calvin and Janet High Center for Worship and Performing Arts, Messiah University, Mechanicsburg. The public is invited to attend.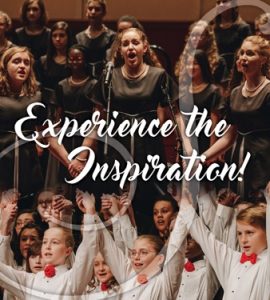 This inspiring intergenerational event, which inaugurates the Susquehanna Chorale's 41st season, features the Susquehanna Chorale, the Children's Chorale, the Susquehanna Youth Chorale, and the Susquehanna Young Women's Chorale. The concert will include selections from the traditional choral repertoire, spirituals, and folk songs from around the world. The "family" of choirs will come together to perform the program finale, Mack Wilberg's Anthem of Peace, conducted by Artistic Director, Founder, and Conductor Linda L. Tedford.
Tickets are available now through the Chorale's website, www.susquehannachorale.org, or by calling the Messiah University Box Office at 717.691.6036, Option 1.
Adults: $22.49 in advance/$25.00 at the door
Students: $7.19 in advance/$5.00 at the door
All tickets purchased in advance include a processing fee. Discounts are available for groups of 10 or more.
11/20/22
---
Susquehanna Chorale Traditional Candlelight Christmas Concert Series
Susquehanna Chorale to Perform Traditional Candlelight Christmas Concerts
The Susquehanna Chorale, a nationally acclaimed adult chamber ensemble of 40 auditioned singers, will present its traditional Candlelight Christmas concert series in December. The programs will be conducted by Founder, Artistic Director and Conductor Linda L. Tedford.
This year, the Chorale's program will feature Members of the Messiah University Brass in a performance of John Rutter's inspirational three-movement Gloria, as well as other works.
The program also includes a majestic opening processional, Personent Hodie, Jim Clements' Gabriel's Message and Eric Whitacre's hauntingly beautiful Lux Aurumque. The Chorale is certain to bring holiday cheer with their performance of Jerry Rubino's setting of It's the Most Wonderful Time of the Year, and a whimsical, not-to-be-missed performance of Dance of the Sugar Plum Fairy. Traditional songs and carols follow, including an audience sing-along of Mack Wilberg's Joy to the World. The evening concludes with the Chorale surrounding the audience for the traditional finale, Silent Night.
Performances
Friday, December 16 at the High Center, Messiah University, Mechanicsburg 7:30 p.m. '
Saturday, December 17 at Leffler Chapel, Elizabethtown College, Elizabethtown 7:30 p.m.
Sunday, December 18 at Market Square Presbyterian Church, Harrisburg 4:00 p.m.
A pre-concert instrumental recital will be presented by the Messiah University Brass 15 minutes prior to each performance. A reception for the audience and singers is planned following each program.
Tickets
Tickets may be purchased through the Susquehanna Chorale website at https://susquehannachorale.org/performances or by calling the Messiah University Box Office at (717) 691-6036, Option #1.
Adults: $32.69 in advance/$35.00 at the door
Students: $12.29 in advance/$10.00 at the door
All tickets purchased in advance include a processing fee. Discounts are available for groups of 10 or more.
12/18/22
---
Susquehanna University High School Composition Competition | Deadline: Friday, Jan. 20, 2023 at 6 p.m.
Pennsylvania, New York, New Jersey and Maryland high school students currently in grades 9-12 are invited to enter a composition competition hosted by the Department of Music at Susquehanna University. Learn more about Composition at SU.
The composer of the winning piece will receive a $1,000 prize and an invitation to the premier of their piece at Susquehanna in the spring of 2023 (March/April).
Submission Specifications
Works must be for two to seven performers and three to 10 minutes in duration.
Instrumentation is flexible, although standard classical instruments are preferred. For example, a work for two singers, piano, flute, violin and percussion would be preferred over a work for four electric guitars and organ, although that work would still be eligible.
Submissions must be made electronically and should include both a notated score (PDF) and a recording (mp3). The recording may be computer-generated or from a live performance or reading session.
Submissions will be evaluated based on musical quality, originality and appropriateness for performance by undergraduate music majors (student chamber ensemble).
Winners will be contacted by February 20, 2023. Winners and runners-up will receive feedback from the jury. Please contact Patrick Long, professor of music, with any questions.
---
Hip-hip duo's

Creating a

Joyful Noize

program at the heart of instructional materials
The Center for the Performing Arts at Penn State invites you to consider three unique opportunities for your learners. Multimedia creative and hip-hop duo Soul Science Lab presents a way for you and your students to take a deep dive into its process of creating uplifting, educational, inspirational messages through hip-hop songwriting.
The three-part program consists of a screening of Soul Science Lab's documentary film Creating Make a Joyful Noize, followed by a question-and-answer session; songwriting and music production curriculum; and an in-person School-Time Matinee event.