To submit your community happenings announcement for consideration, please email details to info@pmea.net. Please send information at least two weeks in advance of the event.
For Professional Development hosted by PMEA or NAfME, see the Professional Development Opportunities page of the PMEA Website.
---
Junior Composer Program: STEM Students Score Music
Endless Mountain Music Festival has created a new competition: Jr. Composer Program: STEM Students Score Music
Endless Mountain Music Festival (EMMF), Science & Discovery Center (SDC), and regional school districts are collaborating to develop a Junior Composer Program for students in elementary, middle/jr. high school, high school, and college. The purpose of this pilot program is to combine STEM elements with music by using technology to guide students in scoring their own inspired compositions. Students will receive master class mentoring from eight Hollywood composers who will be performing eight world premieres during the 2021 Endless Mountain Music Festival.
Each junior composer will submit a pre-recorded video inspired by suggested topics: essential workers, immigrants, civil rights, Hollywood, or about the city where they live.  Included in the video will be: student's name, age, location, year in school, plus a brief bio that is concise and informational and will explain the story behind their music. Each video should be no longer than three minutes 30 seconds to four minutes maximum, including their scored composition.
Below is a short promo about the Hollywood Composers followed by 8 master classes. The attached PowerPoint presentation explains the program with a free computer program and the winner of the contest from last year.  You can also visit www.endlessmountain.net on our home page.
Hollywood Composer promo  https://youtu.be/5a2pAyo14Jk
Master Class files https://drive.google.com/drive/folders/1M8VwdJ8VPnDeqZyFYYGJIOEE5BDkPgaC?usp=sharing
---
Peabody Pro
The Peabody Institute of the Johns Hopkins University is thrilled to launch Peabody Pro, a new series of classes geared specifically towards professional arts educators, arts administrators, and performing artists. This January, dive into topics such as Diversifying the Instrumental Music Repertoire, Playing Well: Anatomy and Movement for Musicians, and Violin & Viola Pedagogy Master Classes. Winter courses will be delivered remotely via Zoom and registration is open.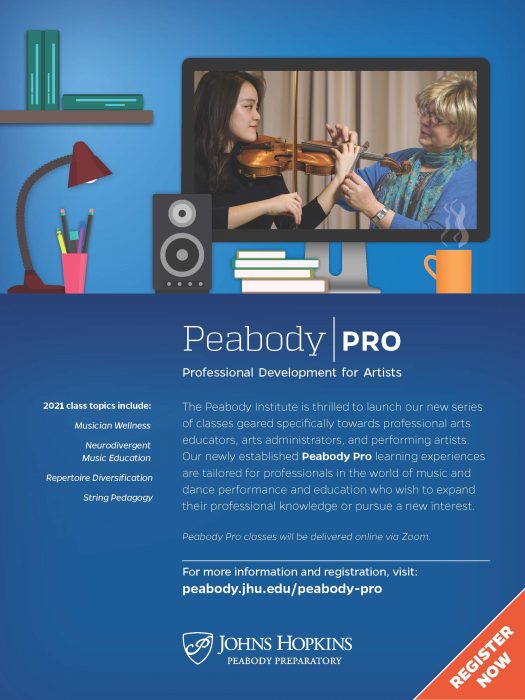 ---
Insight into the Music Therapy Profession
This event was recorded and we are providing the Facebook link to that recording so any students who may have missed it and are interested can still have that opportunity.
Viewers will find an introduction to the field of music therapy from an expert panel of music therapy professionals and a college music therapy student.  Questions from participants were answered and this could be a valuable resource for anyone contemplating a career choice using music.
There are currently 9000 board-certified music therapists who practice throughout the country.  AMTA promotes the education, training, professional standards, and research needed to support and advance the field of music therapy. (www.musictherapy.org).
We ask you to please share this video link with music educators and students in your organization. If there are questions, please contact Jessica Fletcher and BriAnne Weaver at amtawdrcommittee@gmail.com.
---
The U.S. Army Field Band presents Virtual Music Classroom
As the groundbreaking "We Stand Ready" virtual concert series heads into its seventh month, The U.S. Army Field Band is proud to unveil its next online series: "Virtual Music Classroom: Lessons For Every Musician."
With social distancing making ensemble rehearsals, performances, and even private lessons difficult, musicians need ways to continue developing their skills, and teachers need curriculum designed for isolated students without the benefit of in-person instruction. In coordination with music educators across America, the Soldiers of The U.S. Army Field Band are creating new materials and instructional videos to inspire the next generation of musicians to keep their skills sharp, ready to rejoin their ensembles even stronger than before.
The series will consist of twice-weekly YouTube educational videos covering a broad range of topics, some that can be applied by musicians of any instrument or voice type, others that focus on a very specific instrument or skill. Students will be able to play along with the pros, learn new practice routines, and use technology to knock off the summer rust and continue to grow until they are able to rehearse and perform with others again. The series will also offer real-time, virtual clinics that connect students and music educators all over the country. Clinics will be held on platforms most convenient for the students and teachers, and will focus primarily on requested topics.
We are stronger together than apart, and the United States Army has America's back as much as ever. Stay tuned to The U.S. Army Field Band's social media channels and ArmyFieldBand.com for more on Virtual Music Classroom, coming very soon!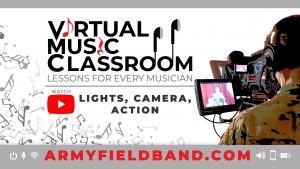 ---
QuaverMusic Free Resources
I hope you are all staying healthy and safe! As educators, I know this was not how you planned the school year to end. Some of you may feel stressed and anxious while trying to transition to distance teaching and learning. 
Our partners at QuaverMusic want to help minimize stress and provide you with resources that make it easy to stay connected with your students. They are offering FREE webinars and general music resources to help music teachers keep their music class moving! 
QuaverMusic is offering the following FREE resources: 
Visit QuaverMusic.com/Home2020 for more information on QuaverMusic and to sign up for your FREE access. 
Watch the GRAMMY Music Education Coalition live streams! 
The GRAMMY Music Education Coalition is putting on live stream events for music teachers that focus on distance teaching. Visit the GRAMMY Music Education Education Coalition YouTube page to watch the live streams. 
If you have any questions about this offer, feel free to reach out to your Quaver Sales Director, Kirk Maddox, directly at Kirk@QuaverEd.com or 615-856-1425. 
---
Distant Harmonies
In response to the cancellation of scholastic and independent music programs affecting musicians worldwide, River City Rhythm is proud to offer "Distant Harmonies," a virtual music experience for all instrumentalists regardless of age or ability. Musicians from around the world can be a member of our video and audio virtual music collage by simply downloading, recording and submitting the part they wish to play. Once submissions have been received and compiled, the collage will be made available to share and view worldwide.
River City Rhythm has always been committed to forming a strong community through the art of performance. In light of the world's current situation and the way COVID-19 has upended so many musical experiences forming unprecedented distancing between us, we wish to turn to what we know: the transformative power of music to build connections with others. Playing your instrument in solitude can be isolating, but in harmony with distant musicians from around the world, we hope to create an exciting opportunity for musicians and concert-goers alike.
Now is the time for us to tune in to music and seek ways to find harmony with each other from afar.
Please join us to create Distant Harmonies. Participation is FREE. All you need is an instrument, the internet, and a recording device.
https://www.rivercityrhythm.org/distant-harmonies
---
Singing Equality across America and Around the World  
World Unity Inc. is spearheading a program, "Singing Equality across America and around the World."  The song, "We All See the Star," by John Ciambriello was performed at the United Nations in 2015 and it inspired the program.
The song is available in three keys and backtracks, register for the music sheets at : www.worldunityinc.org
View video of 800 children singing song and performing verse in sign language at: http://worldunityinc.org/800children.html
The audio/video library has a video of two women performing the song in sign language.  It's the 6th video.
Click here: http://worldunityinc.org/youtube.html
Simple lesson plan available, attached are some of the responses from students to questions in a discussion.