To submit your community happenings announcement for consideration, please email details to info@pmea.net. Please send information at least two weeks in advance of the event.
---
Susquehanna Chorale Returns to Mt. Gretna on August 19
The critically acclaimed Susquehanna Chorale will perform "Music
for a Summer's Evening" at Mt. Gretna's open-air Tabernacle on Sunday, Aug. 19, at 7:00 p.m. The
Chorale's founder and artistic director, Linda L. Tedford, will conduct the Chorale in its appearance as
part of Mt. Gretna's Summer at the Tabernacle concert series.
For more information, see the Mt Gretna 18 Press Release.
---
Practicing Musician Online Summer Band Camp
Fundamental music lessons for K-12 students.  Enrolling now!  See the flyer below and website for more information.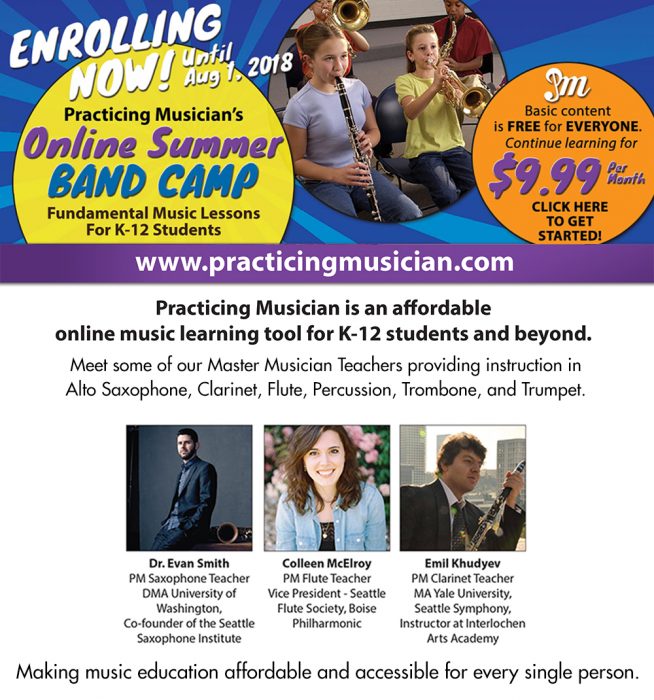 ---
Middleton's Recycle
Middleton's Recycle is accepting old, unwanted instruments for cash or credit against purchases.  For more information, see the Middleton's Recycle Flyer.
---
Bruce Montgomery Foundation for the Arts Springboard Grants
Every autumn the Bruce Montgomery Foundation for the Arts awards $2,500.00 Springboard Grants to talented individuals and/or student organizations from the Greater Philadelphia region who are pursuing excellence in the performing arts. Applications are accepted between May and September and four winners are selected by our Grants Committee to receive their awards at a gala fundraiser in the fall.
---
The Cunningham Piano Show – Exploring Life Between the Keys
"The Cunningham Piano Show" is a new weekly web TV show that features pianists of all ages and genres and explores "life between the keys". Shot on location at Cunningham Piano in King of Prussia, PA, the show is a wonderful opportunity for local music teachers to provide greater exposure for their students and school music programs, and for the public at large to fall in love with music. The only prerequisite is that the piano be featured prominently, either in a solo or ensemble setting. View the
CPS Press Release
for more information.
Season 1 will comprise of approximately 30 episodes. For information on auditions for season 2, please contact show host and producer Hugh Sung at 
hugh@cunninghampiano.com
.  
---
Region III Fall Workshop
I would like to take this opportunity to 

invite

 all PMEA members to the upcoming Region III Fall Workshop (Penn State Music Educators' Workshop). The professional development workshop is open to everyone, including all university students, K-12 teachers, and community members. The workshop, hosted by Penn State University, will be held on 

Sunday, October 21, 2018 from 10:00am-5:00pm

 in our newly renovated music buildings. The keynote speaker for the event is Dr. Connie McKoy, co-author of the book Culturally Responsive Teaching in Music Education: From Understanding to Application. Lunch will be provided and all attendees will be entered to win door prizes! Registration information and a complete listing of session offerings will be emailed to you soon – mark your calendars and we hope to see you there! If you have any questions at all, feel free to reach out to me via the contact info below.

Sincerely,
Intrepid Air and Space Museum to Host Inaugural Veterans Day Choir
The Intrepid Sea, Air & Space Museum, in partnership with Festivals of Music, will host the first-ever Veterans Day Honor Choir during its Veterans Day weekend celebrations, November 11 at the Intrepid Sea, Air & Space Museum, located at Pier 86 (46th Street and 12th Avenue). The museum is currently looking for choirs to perform at museum during this event.
The event will bring together choirs selected from across the country, culminating in a massed Veterans Day Honor Choir of 250-300 singers performing aboard the legendary aircraft carrier, Intrepid. An evening performance open to the general public will focus on service and honoring veterans.
The guest conductor will be Dr. John Sinclair, past conductor for the annual Candlelight Processional at EPCOT at the Walt Disney World® Resort. He is the choral conductor and chair of the Music Department at Rollins College and artistic director and conductor of the renowned Bach Festival Society of Winter Park. He has also served as the conductor at the Berkshire Choral Festival.
The concert will also include a special performance by Voctave, a professional vocal ensemble based in Central Florida. Voctave consists primarily of current and former members of Voices of Liberty, who have regularly performed at the American Experience Pavilion at EPCOT at the Walt Disney World® Resort (www.voctave.com). The concert will end in a combined performance by Voctave and the Veterans Day Honor Choir.
If you are interested in having your choir perform at the Intrepid Museum, please contact Festivals of Music at 1-800-305-7565 or email intrepid@festivalsofmusic.com.
The choirs will work with the guest conductor throughout the weekend, rehearsing music they received in advance. The rehearsal schedule will allow for sightseeing apart from the event. Participants will have the opportunity to spend one morning in a leadership workshop with veterans of the armed forces. There will also be public events at the Intrepid Museum connected to Veterans Day, including the annual Veterans Day Ceremony.
---
  "Singing Equality Across America"
Given the social and political climate in America World Unity, Inc.'s campaign, "Singing Equality across America," is needed now more than ever!  Two years ago we sponsored a national songwriting contest inviting singers songwriters across the country to write a song to help individuals become more self-aware and overcome their prejudices and biases. The winning song, "We All See the Stars," by John Ciambriello was performed at the United Nations Sept. 26, 2015.  It was first performed in Massachusetts by 100 students from the Plymouth public schools and the South Shore Conservatory in a fundraising Concert for the African Children's Choir.
We're reaching out to the directors of Music and Fine Arts in school districts across the country to invites them to introduce our song to the teachers in all their schools. Imagine if all the students in your community, your state and the nation heard this song what could happen? 
 Video of song: http://www.worldunityinc.org/singingequality.html. This video is of 100 students performing the song in a concert at the Plymouth North HS April 2015. 
Register for a copy of the music sheet at: http://asthesun.com/singingequalityregistration.htm
Please consider:  While we are offering this free to everyone if you believe more children and communities across this nation needs to be exposed to this song we hope you'll consider offering whatever donation you'd like to empower us to reach out to school districts, charters schools, colleges, universities, institutions and organization across the country.  No one right now is looking for a song to help us overcome our prejudices and biases  We're offering this powerful song to help our nation and world value all people. Whatever donation you'd like to make is appreciated.  Thanks for your consideration.  You can just donate here. http://www.worldunityinc.org/DonationPage.html
---