To submit your community happenings announcement for consideration, please email details to info@pmea.net. Please send information at least two weeks in advance of the event.
For Professional Development hosted by PMEA or NAfME, see the Professional Development Opportunities page of the PMEA Website.
---
National Anthem Contest
Are you interested in singing the National Anthem as part of the 105th Pennsylvania Farm Show? The Pennsylvania Department of Agriculture (PDA) will select a different individual or group (members of the same household, please!) to perform the National Anthem at the beginning of each day of the 105th Pennsylvania Farm Show. If your group doesn't live together, we want to see you getting clever with zoom, with a compilation video, or with another distanced idea. This year's Farm Show is going to be different, and so will our contest! We want to see the most creative video submissions to be broadcast at the open of each day, highlighting your talent as well as your corner of Pennsylvania.
Get creative, PA! Do you spend your morning singing to cattle? Pass the time on the tractor serenading your crops? Has your choir been practicing over zoom? We want to see it! Show us your surroundings and your skill. Originality will score big points in this competition! We don't need flashy editing or special effects – just your beautiful voices and interesting surroundings!
Eligibility:
To be eligible for selection, you must:
be a legal resident of the Commonwealth of Pennsylvania;
give permission to use your video
be someone other than an employee, family member or person living in the same household as an employee of the Pennsylvania Department of Agriculture; and
if less than 18 years of age, obtain and provide the written consent of a parent or guardian if you are ultimately selected to perform.
To apply: When the contest is open, the Pennsylvania Farm Show Facebook page (https://www.facebook.com/PAFarmShow/Opens In A New Window) will publish a post. Upload a single video of yourself or your group, singing the National Anthem from start-to-finish, without instrumental accompaniment, to a video hosting site like Youtube or Vimeo. E-mail a link to your video with the subject "National Anthem Contest" to kpoland@pa.gov. Submissions will be accepted from Monday, November 16, 2020 through Monday, December 7, 2020 at 12:00 p.m. EST. The video becomes the property of PDA once submitted. Once received and reviewed, applicants will be notified that their submission has been successfully received via email.
For more information, visit the Farm Show Website.
---
Call for Virtual Lesson Plans
The Lowell Mason House is excited to sponsor a competition for music educators that recognizes excellence in teaching music in a virtual, online environment. We are calling for music educators to submit their very best lesson plan for teaching music in an online, virtual environment. The pandemic of 2020 has demonstrated the need for music teachers to be prepared to teach in virtual online sessions that are both engaging and enriching for students at all levels. Lowell Mason, who believed that it was important for every child to be taught music in order for them to reap the therapeutic health and wellness benefits of the power of music, would want to make sure that any instruction of music at all, no matter through what medium, should be of high quality and substance. Teaching music through the computer is just another vehicle for delivering quality music education.
The Lowell Mason House "Call for Virtual Lesson Plans" invites all music educators, whether presently working in the field, preparing as future music educators at the college level, or retired music educators to submit their very best lesson plan by emailing it to manager.lowellmasonhouse@gmail.com between November 1 and December 1, 2020. Submissions will be reviewed by a panel of judges at the collegiate level in music educators and the top three winners will be announced on January 8, 2021, Lowell Mason's 229th birthday. All reviewed submissions will be placed on a special Google Drive where music educators may search for ideas for musical virtual lesson plans. The top three winners will each receive a $2,000.00 prize for their work.
Each applicant should only send one of their very best virtual learning music lesson plans. The lesson plan must be completely original and NOT be based upon a commercially available lesson plan that may be copied/purchased online. Each lesson plan will be judged upon the following criteria: Originality/Creativity; Excitement; Student Engagement Potential; Potential for Successful, Measurable Learning; and Age-Appropriateness for the identified level of students for whom it was written: pre-school, elementary, middle, secondary, college, or adult learning. Each applicant agrees to allow the Lowell Mason House to place his/her lesson plan submission on the special Google Drive linked to its public website.
The Lowell Mason House "Call for Virtual Lesson Plans" promises to be an exciting program designed to engage music educators at all levels. We look forward to the incoming submissions as we do our part to facilitate the quality of music education for all even through this most difficult of pandemic times! 
---
Susquehanna Chorale Concert
The Susquehanna Chorale will release a new virtual concert
featuring the choral artistry of its educational choirs for children and youth. The concert is free to the public, and will be available via a link to the Chorale's website beginning Nov. 22.
For more information, see the YCF Virtual Concert 2020 press release.
---
The U.S. Army Field Band presents Virtual Music Classroom
As the groundbreaking "We Stand Ready" virtual concert series heads into its seventh month, The U.S. Army Field Band is proud to unveil its next online series: "Virtual Music Classroom: Lessons For Every Musician."
With social distancing making ensemble rehearsals, performances, and even private lessons difficult, musicians need ways to continue developing their skills, and teachers need curriculum designed for isolated students without the benefit of in-person instruction. In coordination with music educators across America, the Soldiers of The U.S. Army Field Band are creating new materials and instructional videos to inspire the next generation of musicians to keep their skills sharp, ready to rejoin their ensembles even stronger than before.
The series will consist of twice-weekly YouTube educational videos covering a broad range of topics, some that can be applied by musicians of any instrument or voice type, others that focus on a very specific instrument or skill. Students will be able to play along with the pros, learn new practice routines, and use technology to knock off the summer rust and continue to grow until they are able to rehearse and perform with others again. The series will also offer real-time, virtual clinics that connect students and music educators all over the country. Clinics will be held on platforms most convenient for the students and teachers, and will focus primarily on requested topics.
We are stronger together than apart, and the United States Army has America's back as much as ever. Stay tuned to The U.S. Army Field Band's social media channels and ArmyFieldBand.com for more on Virtual Music Classroom, coming very soon!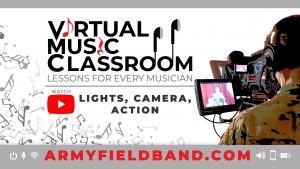 ---
QuaverMusic Free Resources
I hope you are all staying healthy and safe! As educators, I know this was not how you planned the school year to end. Some of you may feel stressed and anxious while trying to transition to distance teaching and learning. 
Our partners at QuaverMusic want to help minimize stress and provide you with resources that make it easy to stay connected with your students. They are offering FREE webinars and general music resources to help music teachers keep their music class moving! 
QuaverMusic is offering the following FREE resources: 
Visit QuaverMusic.com/Home2020 for more information on QuaverMusic and to sign up for your FREE access. 
Watch the GRAMMY Music Education Coalition live streams! 
The GRAMMY Music Education Coalition is putting on live stream events for music teachers that focus on distance teaching. Visit the GRAMMY Music Education Education Coalition YouTube page to watch the live streams. 
If you have any questions about this offer, feel free to reach out to your Quaver Sales Director, Kirk Maddox, directly at Kirk@QuaverEd.com or 615-856-1425. 
---
Distant Harmonies
In response to the cancellation of scholastic and independent music programs affecting musicians worldwide, River City Rhythm is proud to offer "Distant Harmonies," a virtual music experience for all instrumentalists regardless of age or ability. Musicians from around the world can be a member of our video and audio virtual music collage by simply downloading, recording and submitting the part they wish to play. Once submissions have been received and compiled, the collage will be made available to share and view worldwide.
River City Rhythm has always been committed to forming a strong community through the art of performance. In light of the world's current situation and the way COVID-19 has upended so many musical experiences forming unprecedented distancing between us, we wish to turn to what we know: the transformative power of music to build connections with others. Playing your instrument in solitude can be isolating, but in harmony with distant musicians from around the world, we hope to create an exciting opportunity for musicians and concert-goers alike.
Now is the time for us to tune in to music and seek ways to find harmony with each other from afar.
Please join us to create Distant Harmonies. Participation is FREE. All you need is an instrument, the internet, and a recording device.
https://www.rivercityrhythm.org/distant-harmonies
---
Singing Equality across America and Around the World  
World Unity Inc. is spearheading a program, "Singing Equality across America and around the World."  The song, "We All See the Star," by John Ciambriello was performed at the United Nations in 2015 and it inspired the program.
The song is available in three keys and backtracks, register for the music sheets at : www.worldunityinc.org
View video of 800 children singing song and performing verse in sign language at: http://worldunityinc.org/800children.html
The audio/video library has a video of two women performing the song in sign language.  It's the 6th video.
Click here: http://worldunityinc.org/youtube.html
Simple lesson plan available, attached are some of the responses from students to questions in a discussion.