To submit your community happenings announcement for consideration, please email details to info@pmea.net. Please send information at least two weeks in advance of the event.
For Professional Development hosted by PMEA or NAfME, see the Professional Development Opportunities page of the PMEA Website.
---
Music Admissions Roundtable
What:
A series of virtual college fairs sponsored by the Music Admissions Roundtable (MAR) – a group of music and performing arts schools from across the country. These virtual college fairs will provide students with an opportunity to meet with admissions representatives from a wide variety of music and performing arts programs/schools.
When:
Panel Discussions begin one hour before the fair start time.
Monday, September 21 – 9am-12pm
Thursday, October 8 – 9pm-12am
Sunday, October 25 – 2pm-5pm
Thursday, November 12 – 8pm-11pm
 Monday, November 23 – 7pm-10pm
Where:
Virtual Online through Zoom links posted on musicadmissionsroundtable.org
No advanced registration required.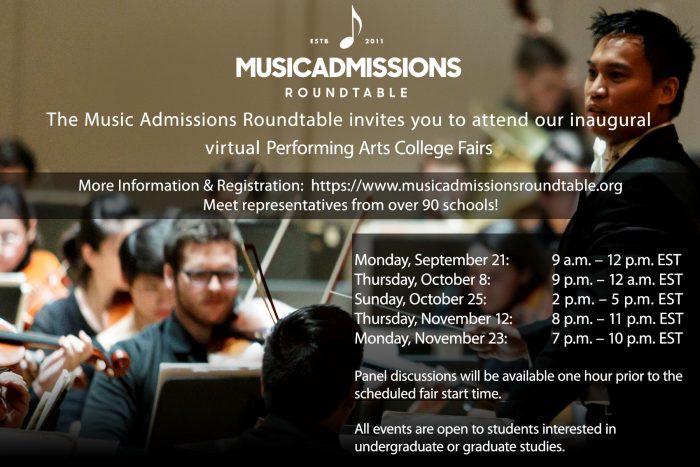 ---
Push The Sound
Please share this special announcement with your state's music teachers. If you have questions, email me (marcia.mccaffrey@doe.nh.gov). For more information about the course or the Push The Sound curriculum, contact Geoff Moody, Director, Push The Sound LLC at director@pushthesound.com.
Music teachers, just for you this fall, free training and curriculum in music production. Great for remote or in-person settings. Push The Sound LLC, a New Hampshire based company, is pleased to provide this opportunity for our music colleagues across the nation.
Push The Sound provides music production curriculum to middle and high schools.  Courses are created by modern music genre producers working in the industry together with curriculum development specialists.  
Push The Sound is hosting a series of free webinars for music educators this Fall (9/22; 10/6; 10/20) to address remote and hybrid teaching strategies, with access provided to our resources for use in classrooms this year whether you have budget or not.
Push The Sound provides:
The course material, including eTextbook, videos tutorials, and assignments are built to be used in remote/hybrid/in-class settings and is customizable. 
The emphasis is on fun and creativity while addressing music education equity.  
The courses are appropriate for both students with and without music theory or performance backgrounds.
Only a browser, internet connection and headphones are needed to complete the first course.  
Lesson plans are aligned to National Core Arts Standards – Artistic Processes.  
For more information email Geoff Moody, Director, Push The Sound LLC at director@pushthesound.com
---
QuaverMusic Free Resources
I hope you are all staying healthy and safe! As educators, I know this was not how you planned the school year to end. Some of you may feel stressed and anxious while trying to transition to distance teaching and learning. 
Our partners at QuaverMusic want to help minimize stress and provide you with resources that make it easy to stay connected with your students. They are offering FREE webinars and general music resources to help music teachers keep their music class moving! 
QuaverMusic is offering the following FREE resources: 
Visit QuaverMusic.com/Home2020 for more information on QuaverMusic and to sign up for your FREE access. 
Watch the GRAMMY Music Education Coalition live streams! 
The GRAMMY Music Education Coalition is putting on live stream events for music teachers that focus on distance teaching. Visit the GRAMMY Music Education Education Coalition YouTube page to watch the live streams. 
If you have any questions about this offer, feel free to reach out to your Quaver Sales Director, Kirk Maddox, directly at Kirk@QuaverEd.com or 615-856-1425. 
---
Distant Harmonies
In response to the cancellation of scholastic and independent music programs affecting musicians worldwide, River City Rhythm is proud to offer "Distant Harmonies," a virtual music experience for all instrumentalists regardless of age or ability. Musicians from around the world can be a member of our video and audio virtual music collage by simply downloading, recording and submitting the part they wish to play. Once submissions have been received and compiled, the collage will be made available to share and view worldwide.
River City Rhythm has always been committed to forming a strong community through the art of performance. In light of the world's current situation and the way COVID-19 has upended so many musical experiences forming unprecedented distancing between us, we wish to turn to what we know: the transformative power of music to build connections with others. Playing your instrument in solitude can be isolating, but in harmony with distant musicians from around the world, we hope to create an exciting opportunity for musicians and concert-goers alike.
Now is the time for us to tune in to music and seek ways to find harmony with each other from afar.
Please join us to create Distant Harmonies. Participation is FREE. All you need is an instrument, the internet, and a recording device.
https://www.rivercityrhythm.org/distant-harmonies
---
10th World Alliance for Arts Education International Summit
The 10th World Alliance for Arts Education International Summit will be held Oct 26-29, 2020 at the University of Florida, Gainesville. The purpose of the conference is to bring together arts education professionals world-wide to share the latest research, thought and practice in arts education assessment and evaluation. Primary, secondary and higher education professionals, arts education researchers, policymakers, and national, state and local education officials are invited to submit proposals, due March 20, 2020.
---
Singing Equality across America and Around the World  
World Unity Inc. is spearheading a program, "Singing Equality across America and around the World."  The song, "We All See the Star," by John Ciambriello was performed at the United Nations in 2015 and it inspired the program.
The song is available in three keys and backtracks, register for the music sheets at : www.worldunityinc.org
View video of 800 children singing song and performing verse in sign language at: http://worldunityinc.org/800children.html
The audio/video library has a video of two women performing the song in sign language.  It's the 6th video.
Click here: http://worldunityinc.org/youtube.html
Simple lesson plan available, attached are some of the responses from students to questions in a discussion.