To submit your community happenings announcement for consideration, please email details to info@pmea.net. Please send information at least two weeks in advance of the event.
For Professional Development hosted by PMEA or NAfME, see the Professional Development Opportunities page of the PMEA Website.
---
North American Saxophone Alliance Soloist Competitions
The North American Saxophone Alliance (NASA) is pleased to announce its 2019-2020 High School Classical and Jazz Soloist Competitions. The competitions are being held in conjunction with the NASA 2020 Biennial Conference at Arizona State University in
Tempe, Arizona.
Contestants in both competitions must submit a video recording of a live performance with live accompaniment. The finalists from the preliminary round will be invited to perform in the final round of the competition as part of the NASA 2020 Biennial Conference. 
The prizes for both competitions are 1st Prize $750, 2nd Prize $500, and 3rd Prize $250 in cash and/or merchandise.
For complete competition requirements, please see the
links below. I hope you will encourage your student saxophonists to enter the competition. NASA is the largest organization in the western hemisphere dedicated to the establishment of the saxophone as a medium of serious musical expression. Please do not hesitate to contact me If you have any questions.
Cordially,
Dr. Gene Smith
Jazz Competition Coordinator
North American Saxophone Alliance
info@gsojazz.com
https://www.saxophonealliance.org/default.asp
https://www.saxophonealliance.org/conference-competitions.asp
https://www.saxophonealliance.org/conference.asp
---
Susquehanna Chorale Youth Choral Festival
Public Invited to Attend Annual Youth Choral Festival on Nov. 17
MECHANICSBURG (October 22, 2019) – The critically-acclaimed Susquehanna Chorale and three of its educational choirs will present the annual Youth Choral Festival on Sunday, Nov. 17, at 4:00 p.m. at the High Center for Performing Arts, Messiah College, Mechanicsburg. The public is invited to attend.  For more information, see the YCF 2019 press release.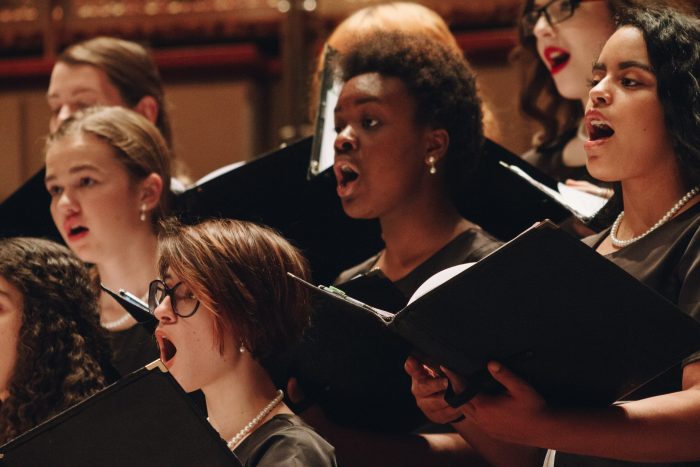 ---
Slippery Rock University Honors Flute Ensemble
The Slippery Rock University Music Department is proud to host the 6th Annual Honors Flute Ensemble for outstanding High School Students in grades 9­-12. Interested students should submit the following materials by January 3, 2020:  2020 SRU Honors Flute Ensemble Information and Application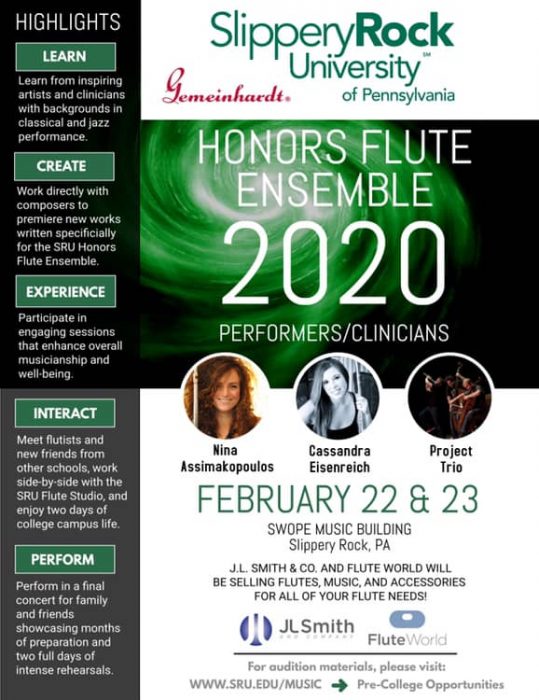 ---
Susquehanna University Composition Competition

---
Choral Music Educator Professional Development Day
Saturday, January 25, 2020
9:00 AM – 3:00 PM
Dr. Jason Vodicka, Westminster Choir College, Clinician
Community Music School, 1544 Hamilton St, Allentown, PA 18102
$35 registration
Following on the heels of our highly successful workshop last season with Dr. Rollo Dilworth, we are delighted to be hosting Dr. Jason Vodicka for a workshop on incorporating Gordon Music Learning Theory and Critical Pedagogy into your choral rehearsal! Great way to "sharpen your pedagogical saw" mid-year, and at a reasonable price!  We will be working with area school districts to again provide professional development credit for you. Please let us know when you register if you are seeking credit!  Go to: bach.org to register! 
Hosted by The Bel Canto Youth Chorus of the Bach Choir of Bethlehem
Joy Hirokawa, Founder and Artistic Director
Questions? Please contact Silagh White, Administrator at silagh@bach.org, or call 610-866-4382 x116