To submit your community happenings announcement for consideration, please email details to info@pmea.net. Please send information at least two weeks in advance of the event.
For Professional Development hosted by PMEA or NAfME, see the Professional Development Opportunities page of the PMEA Website.
---
First State Chamber Orchestra Institute
FSCOI will be held July 25-30, 2022 in partnership with Coastal Concerts and The Delaware Symphony Orchestra in Lewes, Delaware. Students will participate in a full chamber orchestra, small chamber music ensembles and receive instruction specific to their instrument. The Institute will culminate in a concert at the end of the week alongside Delaware Symphony Orchestra musicians for the Lewes community. An audition is required for admission and ensemble placement.
For information about how to apply, audition requirements, tuition cost and all other FSCOI details, please visit our website. We are looking forward to a rewarding musical summer of chamber music. We would love to speak to you more about this wonderful program and have your string musicians participate. https://sites.google.com/view/firststatecoi/home
---
Philadelphia Orchestra Presents Music from Around the World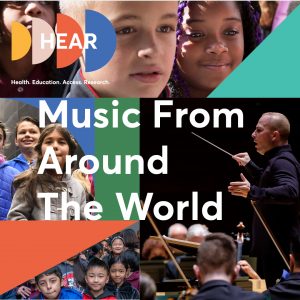 On March 1, 2022, The Philadelphia Orchestra will release our second Virtual School Concert Experience, Music From Around the World, with unique distance learning materials for teachers. This virtual experience is the ideal way to expose students to the exciting and powerful art form of orchestral music. Last year's concert was viewed in schools in 18 countries, 39 states, and 146 schools across the Commonwealth. Registration is currently open for FREE access to the Virtual School Concert Experience and all supplemental teacher resources at philorch.org/schoolconcerts.  
We're also excited to presents an all-digital season of our popular family-friendly concert series, Sound All Around, hosted by Philadelphia Orchestra Storyteller, Narrator, and Host Charlotte Blake Alston. These concerts introduce young learners to a member of the string, woodwind, brass, or percussion family and are a great way for kids, families, daycares, and school groups to have fun with music from the comfort of their own home. Principal Timpani Don Liuzzi and horn player Ernesto Tovar Torres and join Ms. Alston to introduce the French horn and the percussion instruments in our first two videos. For more information, please visit https://www.philorch.org/performances/special-performances/sound-all-around/.
---
Flying Musicians Seeks Student Musician Scholarship Nominations
The Flying Musicians Association (FMA) is pleased to announce the floor is open for nominations for the 2022 Denny Scalise Memorial FMA Solo Scholarship which enhances the FMA's Solo Scholarship program. The legacy scholarship program has averaged 2 scholarships per year in its first seven years while welcoming over two hundred new student members into the FMA network.  For more information, see the 2022 Denny Scalise Memorial FMA Solo Scholarship Document.
---
Susquehanna Chorale Events
Youth Choral Festival 2021 On-line Calendar Submission  
The Susquehanna Chorale, Linda L. Tedford, conductor, will begin its 40th anniversary season with the annual Youth Choral Festival kicks off the Susquehanna Chorale's 40th Anniversary season on Sunday, Nov. 21, at 4 p.m. at Messiah University's High Center for the Performing Arts, Grantham. This inspiring, intergenerational event features performances by the 160 voices of the Chorale's educational choirs for children, youth, and young women, as well as the Susquehanna Chorale. At the concert, the adult Chorale will feature a preview  of Dan Forrest's new work commissioned for the Susquehanna Chorale's 40th Anniversary, Let the Stable Still Astonish. The Susquehanna Chorale will continue to livestream concerts to reach listeners unable to attend in person. 
Tickets may be obtained by visiting our website at
www.susquehannachorale.org
or by calling the Messiah University Box Office,  at 717.691.6036. 
Tickets are $17.39 in advance, and $21.00 at the door for adults; and $6.09 in advance, and $5.00 at the door for students. Discounts are available for groups of 10 or more.
Christmas Concert 2021 On-line Calendar Submission  
The Susquehanna Chorale, a nationally acclaimed adult chamber ensemble of 39 auditioned singers, will present its annual Candlelight Christmas concert series in December as they commemorate their 40th Anniversary concert season. 
This year's Candlelight Christmas concerts will feature Dan Forrest's new work commissioned for the Susquehanna Chorale's 40thAnniversary, Let the Stable Still Astonish. It will also include beloved classics interwoven with new and creative settings of familiar texts in a concert that has become a treasured celebration in Central Pennsylvania. The evening concludes with the Chorale's traditional finale, Silent Night, sung in the round by candlelight. 
Performances are on Friday, Dec. 17 at the High Center, 8 p.m.; Saturday, Dec. 18 at Elizabethtown Church of the Brethren, 8 p.m.; and Sunday, Dec. 19, at Market Square Presbyterian Church in Harrisburg, 4 p.m. The Susquehanna Chorale will continue to livestream concerts to reach listeners unable to attend in person. 
Tickets may be obtained by visiting our website at www.susquehannachorale.org or by calling the Messiah University Box Office,  at 717.691.6036. 
Tickets are $25.49 in advance, and $29.00 at the door for adults; and $8.09 in advance, and $7.00 at the door for students. Discounts are available for groups of 10 or more. 
---
Rhythm to Recovery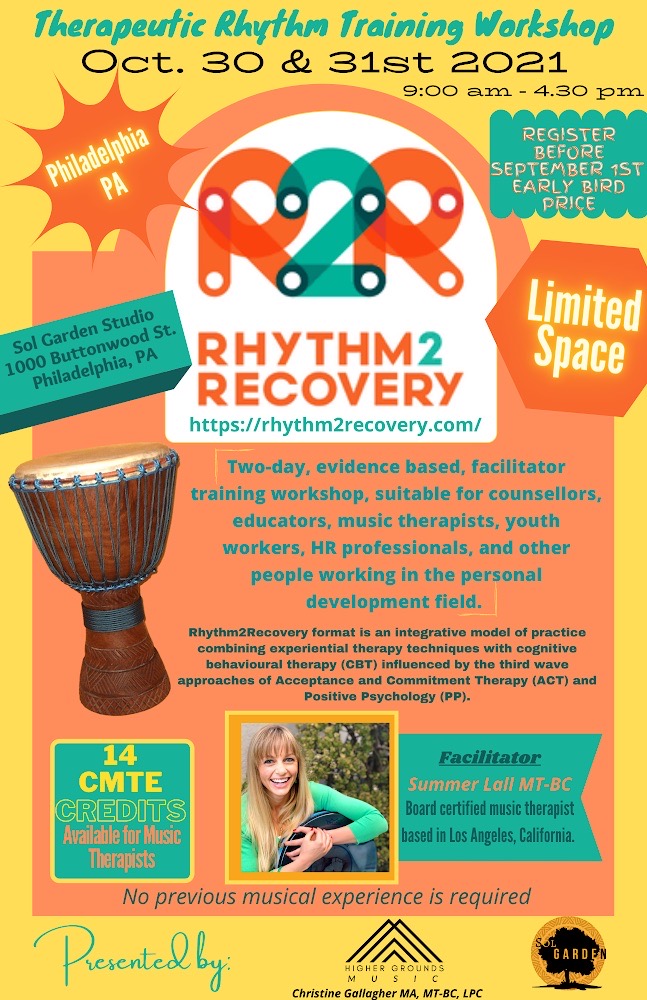 Drumming is an engaging and natural activity for people from cultures across the world and continues to be used to connect people, build community and facilitate healing. Over the last two decades, research has provided much evidence of the positive, healing effect of drumming, and of its impact physically, socially, emotionally and neurologically. Science is now showing exactly how rhythmic music impacts primal areas of the brain and can assist people with social and emotional learning. Rhythm2Recovery (R2R) uses this understanding to extend the many benefits of music in support of people who are averse to traditional 'talk based' therapy. Simon Faulkner, a leader in the use of rhythmic interventions in therapeutic practice, developed this highly experiential two-day workshop which delivers an accessible and flexible platform for professionals wishing to work with rhythmic music to engage young people and adults in social and emotional learning. It includes over 100 new exercises and rhythm experiences for both counseling and education settings and can be adapted for individual, family and larger group work. Topics covered include engaging rhythm experiences & exercises for Developing Trust, Communication, Managing Adversity, Managing Change, Emotion Regulation, Mindfulness, Loss & Grief, and for Teamwork & Healthy Relationships.
This training provides the counsellor, therapist, facilitator or educator with a unique resource pack that provides detailed descriptions of all experiences, plus 50 sessional cards that explore a wide range of relevant life-skill themes. The R2R format allows the facilitator to adapt the content to a broad range of client types and needs, in a fun and empowering way, backed by the latest research on best practice, and trauma informed guidelines.
---
Choral Scholar Program
The Choral Scholar program at St. Paul's Episcopal Church, Chestnut Hill, is intended to introduce young and talented vocalists to quality choral music in a church setting. Through their involvement with St. Paul's esteemed choir, Choral Scholars will have the opportunity to work with accomplished musicians on a weekly basis, perform a large volume of quality music at a very high level, and gain further proficiency in sight-reading and vocal confidence. Young singers will also gain insight into the requirements of being a professional musician.  For more information, view the St. Paul's CH – Choral Scholar Flyer (2021).
---
Peabody Pro
The Peabody Institute of the Johns Hopkins University is thrilled to launch Peabody Pro, a new series of classes geared specifically towards professional arts educators, arts administrators, and performing artists. This January, dive into topics such as Diversifying the Instrumental Music Repertoire, Playing Well: Anatomy and Movement for Musicians, and Violin & Viola Pedagogy Master Classes. Winter courses will be delivered remotely via Zoom and registration is open.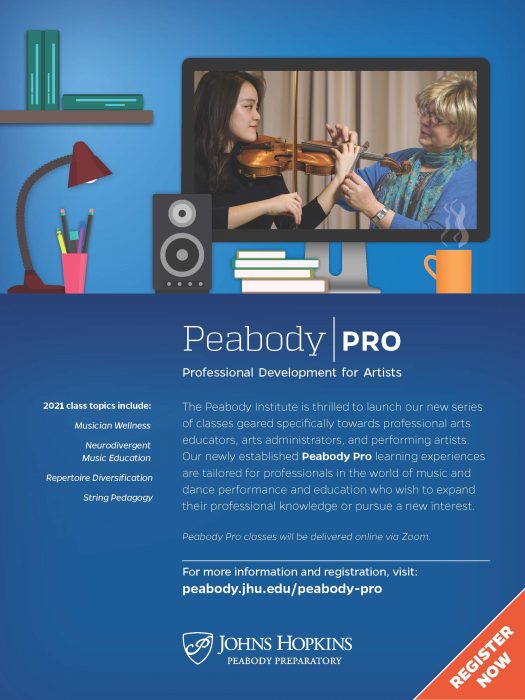 ---
Insight into the Music Therapy Profession
This event was recorded and we are providing the Facebook link to that recording so any students who may have missed it and are interested can still have that opportunity.
Viewers will find an introduction to the field of music therapy from an expert panel of music therapy professionals and a college music therapy student.  Questions from participants were answered and this could be a valuable resource for anyone contemplating a career choice using music.
There are currently 9000 board-certified music therapists who practice throughout the country.  AMTA promotes the education, training, professional standards, and research needed to support and advance the field of music therapy. (www.musictherapy.org).
We ask you to please share this video link with music educators and students in your organization. If there are questions, please contact Jessica Fletcher and BriAnne Weaver at amtawdrcommittee@gmail.com.
---
The U.S. Army Field Band presents Virtual Music Classroom
As the groundbreaking "We Stand Ready" virtual concert series heads into its seventh month, The U.S. Army Field Band is proud to unveil its next online series: "Virtual Music Classroom: Lessons For Every Musician."
With social distancing making ensemble rehearsals, performances, and even private lessons difficult, musicians need ways to continue developing their skills, and teachers need curriculum designed for isolated students without the benefit of in-person instruction. In coordination with music educators across America, the Soldiers of The U.S. Army Field Band are creating new materials and instructional videos to inspire the next generation of musicians to keep their skills sharp, ready to rejoin their ensembles even stronger than before.
The series will consist of twice-weekly YouTube educational videos covering a broad range of topics, some that can be applied by musicians of any instrument or voice type, others that focus on a very specific instrument or skill. Students will be able to play along with the pros, learn new practice routines, and use technology to knock off the summer rust and continue to grow until they are able to rehearse and perform with others again. The series will also offer real-time, virtual clinics that connect students and music educators all over the country. Clinics will be held on platforms most convenient for the students and teachers, and will focus primarily on requested topics.
We are stronger together than apart, and the United States Army has America's back as much as ever. Stay tuned to The U.S. Army Field Band's social media channels and ArmyFieldBand.com for more on Virtual Music Classroom, coming very soon!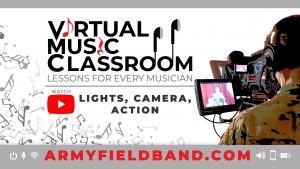 ---
QuaverMusic Free Resources
I hope you are all staying healthy and safe! As educators, I know this was not how you planned the school year to end. Some of you may feel stressed and anxious while trying to transition to distance teaching and learning. 
Our partners at QuaverMusic want to help minimize stress and provide you with resources that make it easy to stay connected with your students. They are offering FREE webinars and general music resources to help music teachers keep their music class moving! 
QuaverMusic is offering the following FREE resources: 
Visit QuaverMusic.com/Home2020 for more information on QuaverMusic and to sign up for your FREE access. 
Watch the GRAMMY Music Education Coalition live streams! 
The GRAMMY Music Education Coalition is putting on live stream events for music teachers that focus on distance teaching. Visit the GRAMMY Music Education Education Coalition YouTube page to watch the live streams. 
If you have any questions about this offer, feel free to reach out to your Quaver Sales Director, Kirk Maddox, directly at Kirk@QuaverEd.com or 615-856-1425. 
---
Distant Harmonies
In response to the cancellation of scholastic and independent music programs affecting musicians worldwide, River City Rhythm is proud to offer "Distant Harmonies," a virtual music experience for all instrumentalists regardless of age or ability. Musicians from around the world can be a member of our video and audio virtual music collage by simply downloading, recording and submitting the part they wish to play. Once submissions have been received and compiled, the collage will be made available to share and view worldwide.
River City Rhythm has always been committed to forming a strong community through the art of performance. In light of the world's current situation and the way COVID-19 has upended so many musical experiences forming unprecedented distancing between us, we wish to turn to what we know: the transformative power of music to build connections with others. Playing your instrument in solitude can be isolating, but in harmony with distant musicians from around the world, we hope to create an exciting opportunity for musicians and concert-goers alike.
Now is the time for us to tune in to music and seek ways to find harmony with each other from afar.
Please join us to create Distant Harmonies. Participation is FREE. All you need is an instrument, the internet, and a recording device.
https://www.rivercityrhythm.org/distant-harmonies
---
Singing Equality across America and Around the World  
World Unity Inc. is spearheading a program, "Singing Equality across America and around the World."  The song, "We All See the Star," by John Ciambriello was performed at the United Nations in 2015 and it inspired the program.
The song is available in three keys and backtracks, register for the music sheets at : www.worldunityinc.org
View video of 800 children singing song and performing verse in sign language at: http://worldunityinc.org/800children.html
The audio/video library has a video of two women performing the song in sign language.  It's the 6th video.
Click here: http://worldunityinc.org/youtube.html
Simple lesson plan available, attached are some of the responses from students to questions in a discussion.