2024 PMEA Annual In-Service Conference
April 17-20, 2024
Bayfront Convention Center, Erie
Call for Session Proposals, Performing Group & Innovations Stage Applications – Open Now!
Deadline to submit – 11:59 p.m. Wednesday, June 7.
Call For Proposals:
PMEA/NAfME members and PMEA/NAfME Corporate Sponsor Member companies are invited to Submit Educational Session Proposals for the PMEA Annual In-service & Summer Conferences in the 2024 PMEA Call for Session Proposals. The PMEA Conference Planning Committee will utilize a blind review process for all proposals submitted. The final decision for inclusion in the annual and/or summer conferences will be that of the conference chair. Corporate Sponsor member session proposals must include a note of endorsement (letter/email) from the sponsoring company when submitted. Sponsoring companies will be listed in the program book. *For sessions promoting a specific product, an exhibit booth at the conference is required by the sponsoring company/organization.
Complete information can be found in the Application.
PMEA Innovations Stage Application:
The PMEA Innovations Stage is an opportunity for PMEA members to share experiences they are providing students at the elementary, middle, high school and collegiate levels outside of the traditional PMEA Conference performance track. We're looking for teachers to showcase innovative opportunities that engage students in meaningful music making experiences in the classroom and ensemble settings from across Pennsylvania, spanning our rural, suburban and urban areas.
Looking for ensembles that:
Are inclusive of a diverse group of students that represent the school community
Incorporate non-traditional instrumentation and/or unique instrument/vocal groupings
Incorporate technology, however not required
Involves innovative or diverse styles of music (i.e. ethnic, world, modern, etc.)
Ensemble size is limited to no more than 20 students; Selected groups will be given one, 20-minute concert.
Performing Group Application:
Application Fee: $25
PMEA members of all teaching levels and areas are encouraged to Submit an Application for consideration to perform at the 2024 PMEA Annual Conference. In an effort to involve as many ensembles as possible, an ensemble appearing at a PMEA Annual Conference is eligible to perform once every four years (i.e. first year of eligibility for groups who performed at the 2023 Annual Conference will be the 2027 Annual Conference). *No school, organization or director may have a performance group of the same medium (i.e. choir, band, orchestra, etc.) appear at consecutive PMEA Conferences. This applies to all ensembles appearing on any concert at the conference. (Example: A school, organization or director may not enter a concert choir one year and a woman's choir the next year.)
Complete information can be found in the Application.
---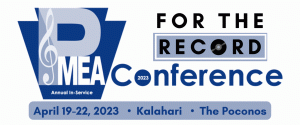 Thank you to all who attended, presented, performed and exhibited during the 2023 PMEA Annual In-Service Conference.
We greatly appreciate your feedback through completion of the 2023 PMEA Annual In-Service Conference Survey.