2023 All-State Orchestra Information
All-State Orchestra Seating Information
All-State seating auditions are now closed. Results will be released at the beginning of the All-State festival (Wednesday, April 19).
2023 Vendors
Forms and Information
Conductor's Notes
Orchestra Listening Links
All-State Social Media Tile
Right click on this image and download it to share on your social media to celebrate being selected as an All-State Musician.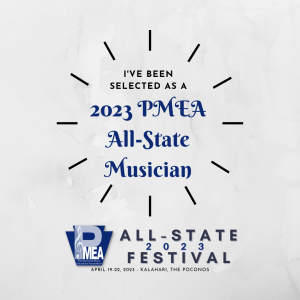 Concert Schedule
The All-State Concert Schedule is as follows:

All-State Vocal Jazz & Jazz Ensemble, Friday, April 21 at 7:30 p.m. (Pocono Mt. West HS)
All-State Chorus and Wind Ensemble, Saturday, April 22 at 10:30 a.m. (Kalahari Convention Center)
All-State Concert Band and Orchestra, Saturday, April 22 at 3:30 p.m. (Kalahari Convention Center)
Concert tickets are now available for purchase.