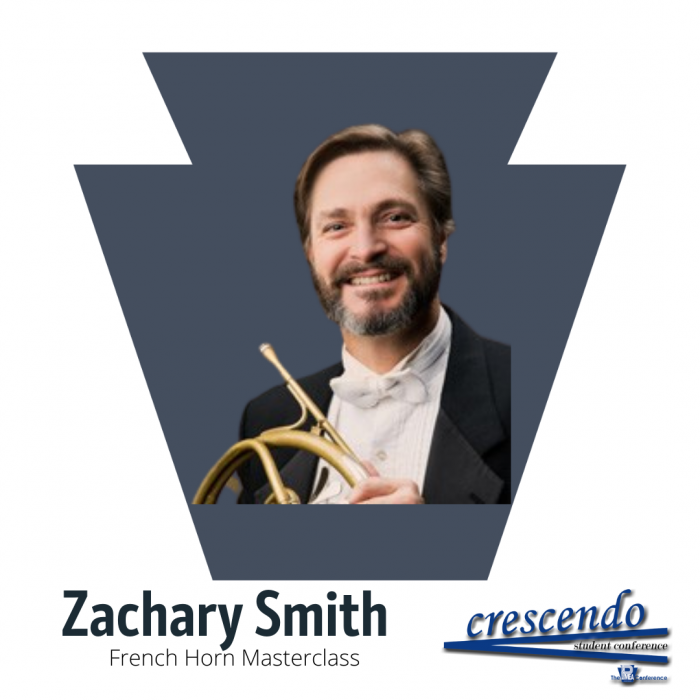 Don't Practice- Play!
How to cover basic fundamentals every day. Hear everyone play a short selection and offer suggestions on what they did well and what they could improve.
Breathing, scales, flexibility exercises, daily attack exercise.
Appointed as assistant principal horn by Lorin Maazel, Zachary Smith has been a member of the Pittsburgh Symphony Orchestra since 1996. Born in Wichita, Kansas, and raised in Falls Church, Virginia, Smith began horn lessons at age 12. He received his Bachelor of Music degree from the Eastman School of Music in 1982 and held the position of third horn with the Oklahoma Symphony from 1983 to 1988, principal horn with the Savannah Symphony from 1988 to 1994 and third horn with the Jacksonville Symphony from 1994 to 1996.
Active in the chamber music world, Smith plays regularly on concert series and recitals at Duquesne University as well as performances with the Pittsburgh Chamber Music Project. In 2009, Smith played the Brahms Horn Trio on tour in China, performing in multiple cities. He has been featured as a soloist with the Savannah, Jacksonville and Guangzhou symphonies, as well as with the National Symphony Orchestra at the Kennedy Center in Washington, D.C.
Smith currently teaches horn at Duquesne University and has also been a faculty member at Carnegie Mellon University, Georgia Southern University, Armstrong Atlantic University and Oklahoma City University. He has been invited to Tianjin University in China numerous times as a guest teacher/performer and has also taught at Brevard Music Center in North Carolina. Smith has given classes at the Eastman School of Music and the Northeast Horn Workshop.