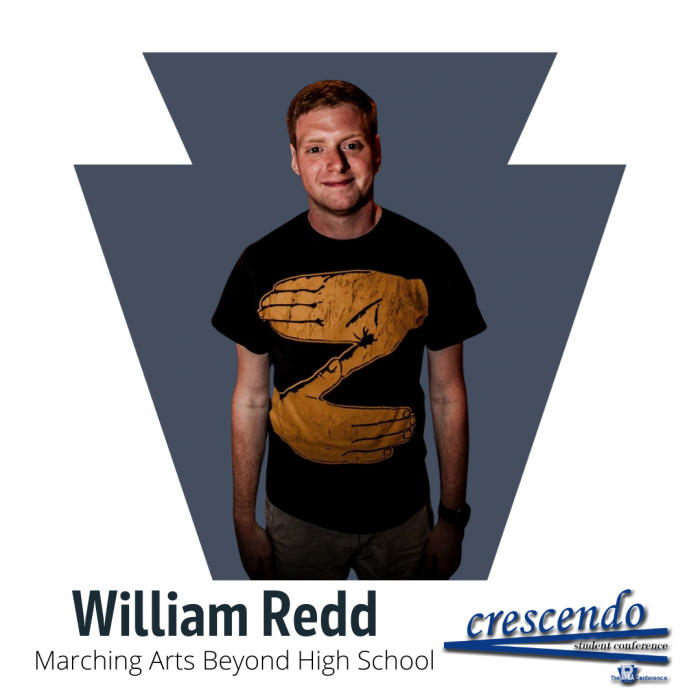 Marching Arts Beyond High School
This panel discussion will explore opportunities for high school students to continue their involvement in the Marching Arts beyond high school.
We will cover details of what is available and how to prepare for auditions for Drum Corps International, Drum Corps Associates, and Winter Guard International.
Panelists include:
Courtney Allyson Mills, a movement educator, began her love for dance, theater, and the creative performing arts in Seminole, Florida where she performed in the prestigious Seminole High School Marching Band and Color Guard. Her experiences in high school brought forth many years of performing with two-time WGI gold medalist, The Company Color Guard and DCI finalist Carolina Crown Drum and Bugle Corps. During her years of performing, Ms. Mills began her teaching career with the goal of helping to develop lifelong skills of passion, determination, and perseverance within young adults, nationally and internationally.
Before getting her Bachelor's Degree, Courtney traveled the United States, lived in Australia, and taught in the UK, gaining teaching and choreography experience. In total, she has been a clinician/instructor at 3 major universities and over 150 high schools in the United States.
Ms. Mills holds a Bachelors of Arts in Dance from Texas Woman's University and a Master of Arts in Performance Psychology from National University. While in attendance at TWU, she was named Outstanding Undergraduate Student of the Year and was a Dean's list student.
ColorGuardEDU Logo : Color Guard Education with Courtney Allyson Mills an Educational Consultant and Performance Specialist. Teaching Professional Development to Schools, Districts, Circuits and Teachers including Masterclasses with Marching Arts EducationCourtney is the founder and facilitator of ColorGuardEDU, an online education platform specifically for instructors, directors, designers, and choreographers to attain information on how to better themselves as teachers. Her mission is to provide the color guard constituency with content that helps develop our activity from an education standpoint, while encouraging artistic growth.
Currently, Ms. Mills resides in Colorado. Between judging nationally, teaching high school, and immersing herself in video editing for ColorGuardEDU, she enjoys hiking, exploring, and spending time with her bulldog Olive and two cats, Hobie and Betty.
Dr. Andrew Shanefield serves as an instrumental music teacher for the School District of Haverford Township(PA).  Drew is the brass arranger for the Crossmen Drum and Bugle Corps (TX) and the River City Rhythm Drum and Bugle Corps (MN).  He is a former faculty member in the Department of Music and Dance at Swarthmore College, the brass composer/arranger for the Cadets (2017-2019) and Cavaliers Drum and Bugle Corps (2009-2015).  Prior to Drew's appointment at the Cavaliers, he was the Program Coordinator for the Bluecoats Drum and Bugle Corps (2006-2008). Previously, Drew served as brass caption head (1998-2000) and programming consultant for the Cavaliers (2002-2006), and as a brass caption head and/or arranger for the Cadets (1995), Carolina Crown (1997) and Crossmen Drum and Bugle Corps (2004-2005).
Additionally, he maintains a busy schedule as a composer and arranger for ensembles across the United States, Europe and Japan. He is a frequent presenter of sessions at annual conferences across the country. Recent commission projects include compositions for the University of Houston, Eastern Kentucky University, Swarthmore College Jazz Ensemble, the Vivace Brass Band of Tokyo, Japan as well as numerous public school commissions. His compositions for band are published by the Neil A. Kjos Music Publishing Company, Northeastern Music Publications Inc., and Marching Show Concepts Inc.
Drew graduated magna cum laude from New York University in 1992. He received a Masters in Music Education degree from Queens College, a Masters in Music Performance from West Chester University as well as a doctorate in Higher Education from Widener University.
He is a member of the American Society of Composers Authors and Publishers (ASCAP). Additionally, Drew is a performing artist/clinician for Yamaha band instruments and is also an adjudicator/clinician for Bands of America/Music for All.
Drew and his family reside in suburban Philadelphia, PA.
Van Mathews retired as the Director of Bands at L.D. Bell High School in Hurst, Texas in 2021, and is an active adjudicator, clinician, and consultant for pageantry organizations throughout the United States and Europe. Under his direction, the L.D. Bell Blue Raider Band has earned multiple Bands Of America Regional and Super-Regional Championship titles and advanced to the Grand National Championship Finals four times, with three top-three finishes. In Texas UIL competition his bands have twice finished as Texas 6A State Marching Contest silver medalists and once as bronze medalists. Van's concert ensembles consistently receive the highest ratings at UIL Concert and Sightreading contests and perform some of the most challenging literature in the wind band repertoire. Prior to L.D. Bell, Van instructed at Haltom High School, Lewisville High School and Lake Highlands High School in Texas. He is a continuing adjudicator for Bands of America Regional, Super-Regional and Grand National Championship events, along with numerous other local and national contests.
Van is excited to accept the position of consultant to the staff and members of the Crossmen Drum and Bugle Corps. His experience with Drum Corps started in 1984, as a member of Florida's Suncoast Sound. He aged out as a member of the Madison Scouts, continuing with them as an instructor and brass caption coordinator through 1999. Van served on brass staff for the Concord Blue Devils from 2000-2009 and returned to the Madison Scouts as consultant and Music Coordinator in 2016-2017. He feels fortunate to have been partnered with incredibly talented educators and brass performers throughout his drum corps career, having earned DCI's Jim Ott Memorial Award on six occasions.
Van received his Bachelor of Music degree from the University of South Carolina and his Master of Science degree from the University of Illinois. While at the University of Illinois he completed all coursework for the Ed. D. in Music Education. His professional affiliations include the Texas Music Educators Association, Phi Mu Alpha Sinfonia, Pi Kappa Lambda, and Gamma Beta Phi. He lives in North Richland Hills, Texas with his patient and loving wife, Brenda, charming and talented daughter, Gabriella, and spirited firstborn son Derek.
Abigail Finkelstien a Band Director in Moon Area School District at Moon Area Middle School  as well as the Assistant Director for the Moon Area High School Marching Band. She has the unique opportunity to teach both 4th grade students in their first year of playing an instrument as well as the high school students in Marching Band.
Abigail graduated from Slippery Rock University of Pennsylvania with a Bachelors of Science degree in Music Education where she headed up their collegiate chapter of the Pennsylvania Music Educators Association as President. Abigail has also completed coursework towards her graduate degree at Duquesne University where she had an assistantship to help teach Brass Techniques to pre-service music education students. She is a member of the Pennsylvania Music Educators Association and National Association for Music Education.
Abigail began working with the Moon Area High School Marching Band in 2014 as a brass and visual instructor. In 2016 the Marching Band received awards in High Music and High Visual at Bands of America Regional Competitions, and in 2017 they earned an award in all three categories, adding High General Effect.
Abigail has been a clinician at several successful music programs, including Mars, Seneca Valley, North Allegheny, and Peters Township. She also teaches private lessons at the Pittsburgh Youth Chamber Orchestra School of Music in Wexford, PA. As a performer, she has a vast and diverse background. She has performed with the Slippery Rock University Winterguard, earning 1st place in the 2014 Three Rivers Winter Ensemble Association Championships. She also marched for two years in Drum Corps International groups: 2013 with Spirit of Atlanta Drum and Bugle Corps, and 2014 with Carolina Crown Drum and Bugle Corps, winning 11th and 5th place at World Championships, respectively. Abigail was chosen to travel to Japan with the Carolina Crown Drum and Bugle Corps in 2014 to perform and put on clinics in Makuhari and Takasaki as part of a festival sponsored by Yamaha. In 2015, Abigail was a member of Rhythm X Winds during their inaugural season when they earned 1st place in the World Guard International Winds Championships.
As a trumpet player, Abigail has studied with Stephen Hawk, formerly of Slippery Rock University of Pennsylvania, and Chad Winkler of the Pittsburgh Symphony Orchestra. Abigail was the first place winner of the Robert and Carolyn Shankovich Wind Concerto Competition at Duquesne University in 2017 and performed a solo concert at Carnegie Music Hall in Oakland. Abigail currently resides in Millvale, PA and enjoys performing in and around the Pittsburgh area in both the classical and jazz idioms.
Allison Gordner is the Assistant Band Director at the Medina Valley Middle School, currently in her fifth year of teaching at Medina Valley ISD and overall career.  Allison received my Bachelor's degree in Music Education from Slippery Rock University of Pennsylvania in the spring of 2016.  In April of 2017, she had the great honor of receiving the Teacher of the Month award dedicated to a first-year teacher in the district.  Along with her middle school duties, Allison is  also the visual caption head with the high school marching band.  A few of her marching band credentials include: 1st Trumpet with the 2012 U.S. Army All-American Marching Band, 2nd Trumpet with the 2014 DCA World Champion Reading Buccaneers, and 2nd Trumpet with the 2015 DCI bronze-medalist Canton Bluecoats.  Rock on and go band!
Born and raised in Pennsylvania, Mr. William Redd received his Bachelor Degree in Music Education from Slippery Rock University where he studied trumpet with Dr. Stephen Hawk and Mr. Joe Herndon. Upon graduation in 2015, he began teaching at Moon Area School District in Moon Township, Pennsylvania.
In 2017, Mr. Redd moved to Texas and started teaching at Belton High School, where he was the director of the Marching Band, Jazz Ensemble 1, and Symphonic Band 2. Under Mr. Redd's direction, the Marching Band received consistent Sweepstakes Awards and advanced to Area D Marching Contest and under his direction Jazz Ensemble 1 received consistent superior ratings including: Temple College Jazz Festival, Longhorn Jazz Festival, UT Arlington Jazz Festival, and TCU Jazz Festival. With Mr. Redd's guidance, the Symphonic Band 2 received Sweepstakes and earned superior ratings from all judges for the first time in program history.
Mr. Redd is an active teacher and clinician across the country. He is also the director of the Crossmen Winds (2019 WGI WIW finalists) and Assistant Brass Caption Manager at the Crossmen Drum and Bugle Corps. Mr. Redd has taught both indoor and outdoor ensembles including: The Blue Knights Drum and Bugle Corps (Denver, CO); Rhythm X Winds (Dayton, OH); Belton HS (Belton, TX), Moon Area High School Marching Band (PA); Norwin Marching Band (PA); Kiski Area Marching Band (PA); and Slippery Rock University Winter Guard (PA). Mr. Redd performed with the Cadets Drum and Bugle Corps and was in the inaugural cast of the 2015 WGI World Champion, Rhythm X Winds as a featured soloist.