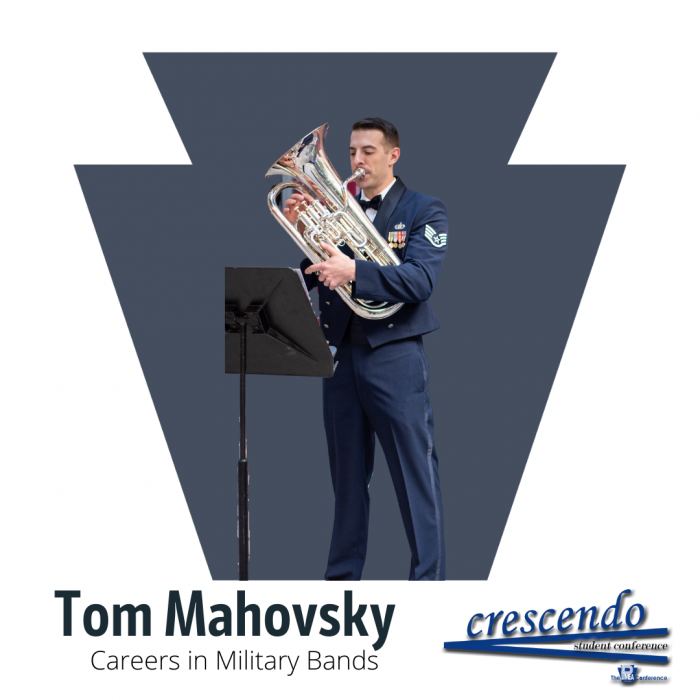 Careers in Military Bands
This presentation will cover all career options as a musician in the military.
In this presentation, we will cover why we joined military bands; The different types of career options as a musician in the military; How to get into a military band; The different types of performance opportunities; What the job entails beyond playing music; Other benefits of being in the military.
Staff Sergeant Tom Mahovsky is a euphonium player with the Air National Guard Band of the Northeast, 553rd Air Force Band. Originally from Conneaut Lake, Pennsylvania, his Air Force career began in 2016.
Prior to joining the Air National Guard, Sergeant Mahovsky served for four and a half years as active duty in the Air Force Band of the Golden West, Travis AFB, CA. He is a graduate of the University of North Texas, where he earned a Master's degree in Euphonium Performance with a minor in Music & Medicine. In 2012, he graduated from Slippery Rock University, where he earned two Bachelor's degrees in Music Education and Euphonium Performance. Sergeant Mahovsky's primary teachers include Dr. Brian Bowman, Dr. Brian Meixner, and Dr. John Tranter.