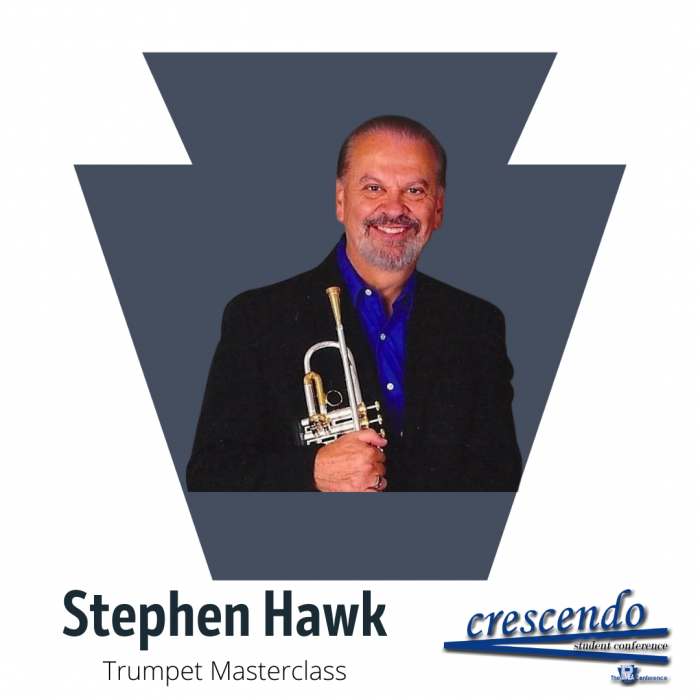 The Developing Trumpeter
Developing the young trumpeter encompasses many aspects, including musical and physical. The session will focus on fundamentals of trumpet playing for various levels.
We will play together as a group and perhaps also as individuals. Issues such as, Air management, Warm Up, Daily Routine, Endurance/Range Development, Articulation and finger dexterity (Clarke Technical Studies/Arban/Scales & Arpeggios) will be areas of concentration. Open forum for questions and discussion as time allows.
Dr. Stephen Hawk is a Professor Emeritus of Music from Slippery Rock University of Pennsylvania where was a Professor of Music for 26 years.  While at SRU his position included serving as the Professor of Trumpet, The Director of Jazz Studies, conducting the Symphonic Wind Ensemble and the Brass Band, as well as serving as the Department Chairperson. He received his Bachelor of Music degree from Western Illinois University and earned his Master of Music and Doctor of Musical Arts degrees in Trumpet Performance/Jazz Emphasis, from the University of Texas at Austin.  While at UT Austin, Hawk studied with Professor Raymond Crisara and performed with him in the UT Faculty Brass Quintet. Most recently Dr. Hawk taught Jazz Studies and Trumpet at Texas State University in San Marcos from 2014 through 2017.
Some of Dr. Hawk's honors include being chosen to receive the Pennsylvania Music Educator's Citation of Excellence in Teaching Award for 2003, and the President's Award for Teaching Excellence from Slippery Rock University for 2004. He has recorded as the Lead trumpeter on five Grammy nominated recordings and two Grammy Award winning recordings with Ms. Nancy Wilson.
Dr. Hawk is an active performer around the USA and abroad, having performed as the Principal/1st trumpeter with the Pittsburgh Civic Light Opera Orchestra, Pittsburgh Symphony Broadway Orchestra, The Pittsburgh Jazz Orchestra, The MCG Big Band, The Cleveland Jazz Orchestra, the San Antonio Symphony Orchestra, as well as pursuing orchestral and solo opportunities.  Hawk has recorded over 75 professional releases with recording highlights including playing lead trumpet with Ms. Nancy Wilson on her 2004 and 2006 Grammy Award winning CD's, "RSVP," and "Turned to Blue," with The New York Voices, "On A Day Like This," with the Bob Mintzer Big Band Grammy nominated CD, "For The Moment," released in 2013, as well as recordings with his own groups.  As a freelance trumpeter, Dr. Hawk has played lead trumpet with jazz legends including; Dizzy Gillespie, The Dizzy Gillespie Alumni Big Band, The Smithsonian Jazz Masterworks Jazz Orchestra, The Woody Herman Orchestra, The Bob Mintzer Big Band, Arturo Sandoval, Wayne Bergeron, The Manhattan Transfer, The New York Voices, Nancy Wilson, Diane Schuur and entertainers such as Bob Hope, Jerry Lewis, Frankie Valli, Ray Charles, Toni Tenille, Natalie Cole and many others.