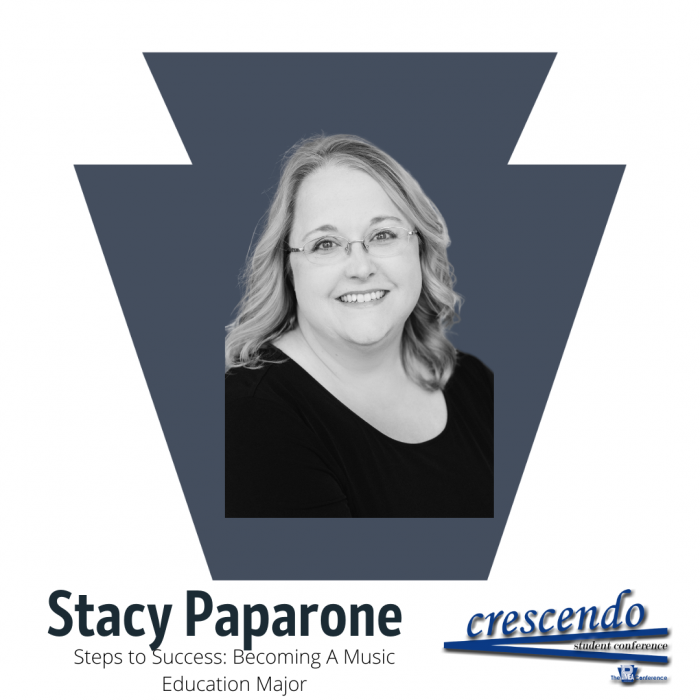 Steps to Success: Becoming a Music Education Major
During this session, students will hear tips on preparing to become a Music Ed Major. There will be time for discussion and questions.
I will present a brief power point that will include several steps to success in preparing to become a music education major in college. Some topics will be musical preparation, lessons, piano skills and tips on auditions. After the brief presentation, there will be time for discussion and questions.
Dr. Stacy Paparone currently serves as a Professor of Music at Grove City College, where she has served since 2008.  She holds a Bachelor of Music degree in Music Education (concentration viola) from Grove City College, a Master of Education degree in Curriculum and Instruction from Indiana Wesleyan University and a Doctor of Musical Arts degree in Music Education from Boston University.  Prior to working at Grove City College, Dr. Paparone taught K-6 general music and 5-12 choirs at Commodore Perry School District in Hadley, Pennsylvania from 1993-2008.
Dr. Paparone has been a PMEA member since 1993 and had students participate in choral festivals throughout her tenure at Commodore Perry School District.  She has served in various offices for PMEA at the local and state level and is currently Past President of PMEA District 5.   Nationally, she is involved with the Society for Music Teacher Education (SMTE), the higher education arm of NAfME.  Through her work with SMTE, Dr. Paparone presented at the Music Research and Teacher Education National Conference in Atlanta in March 2016. 
At Grove City College, Dr. Paparone serves as the Assistant Chair of the Department of Music.  Her teaching responsibilities include Elementary and Secondary music methods and supervises music education field experiences and student teachers. She is the director of the Grove City College Singers, a treble choir, and she co-teaches Musical Theater Workshop.  She has also taught string methods and piano class.  She works closely with the Early Education Center at Grove City College to create musical experiences for the preschool children through a series of music classes.  She directs the Grove City College Singers, a women's choir. She has guest conducted the PMEA District 5 Junior High District Chorus, Mercer County High School Chorus, and the Herkimer County (New York) Elementary Honors Chorus.