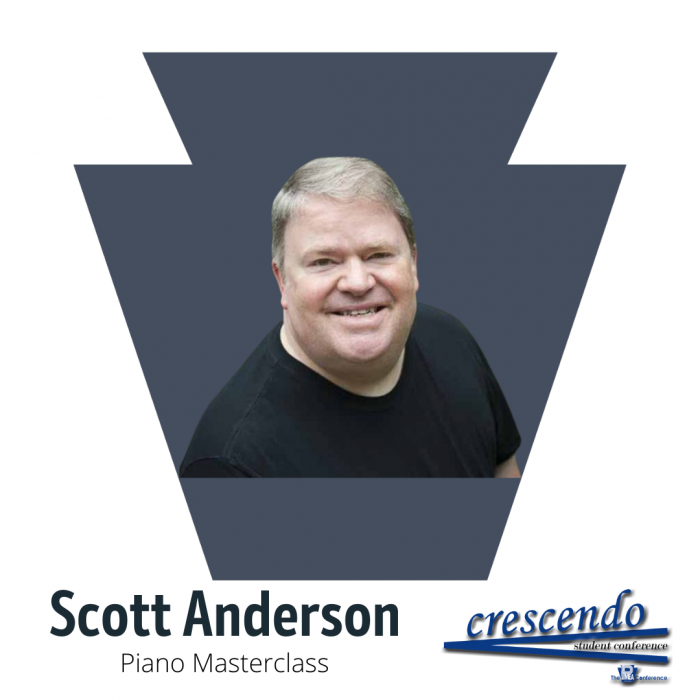 Piano Masterclass
An overview of piano techniques for all styles and levels of ability. In addition to traditional classical pedagogy we'll look at techniques for Jazz and Pop/Rock.
Student participants may be invited to perform a selection, from any style. There will also be demonstrations of techniques used in Classical music, as well special considerations for performing Jazz and contemporary music.
Scott Anderson is a TWO TIME Emmy Award-winning composer, music director, producer, and one of the Pittsburgh region's most sought-after keyboard players.
Scott received an Emmy award in 2006 for his work composing the score for the award-winning documentary "From Pittsburgh to Poland: Lessons from The Holocaust." In 2007 he won BOTH an Emmy and a Telly award for his work as music director and co-producer of "Live From Studio A: American Standards". Scott was also nominated for Emmy awards in 2003 and 2004 for his work as Music Director of WQED's "Live From Studio A" television show and again in 2010 for music contributed to the film "In Service", a joint production of Pittsburgh Filmmakers and Bricolage. He was the organist for the Pittsburgh Penguins and a member of the Penguin's house band, The Blue Line Band, for three years.
Scott's musical diversity is what propelled him to preferred status as a keyboard player for the region's top performers, including Joe Negri, Maureen Budway, HB Bennett, Eric DeFade, Lisa Bleil, Pete Hewlett, Chizmo Charles, Billy Price, Kenny Blake, Benny Benack and on and on. He can go from Jazz to Big Band to straight-ahead Rock & Roll without missing a beat.
His own current projects include playing keyboards and singing for the Hewlett-Anderson band, as well as solo appearances. Scott is the producer of The Holiday Jam, a very successful series of holiday concerts based on the television specials that appeared on WQED for many years.
And here's an interesting bit of pop culture trivia: Scott was the Keyboardist & Musical Director of The Vogues from 1989-1995!
He's backed up a number of National artists including The Temptations, The Drifters, Bo Diddley, Jackie Evancho, Kristen Chenoweth, The Coasters, Ronnie Specter, Lou Christie, Leslie Gore, The Shirelles, Little Anthony, Sam Moore (Sam & Dave), Peter Noone, Barbara Lewis, Frankie Ford, Len Barry, Bryan Hyland, Tommy Roe, The Crystals & Jay and the Americans.
As far as regional bands – Scott has played or recorded with Modern Times, The Late Edition, Up Front, Grapevine, Vibro Kings, Ice Cream Headache, The Balcony Big Band, Jazz for Juniors & The Benny Benack Band.
Scott is an adjunct professor at Point Park University and is a graduate of the Duquesne University School of Music. While he was at Duquesne, he played with some top National Jazz artists including Claudio Roditi, Jerry Niewood and Marvin Stamm.