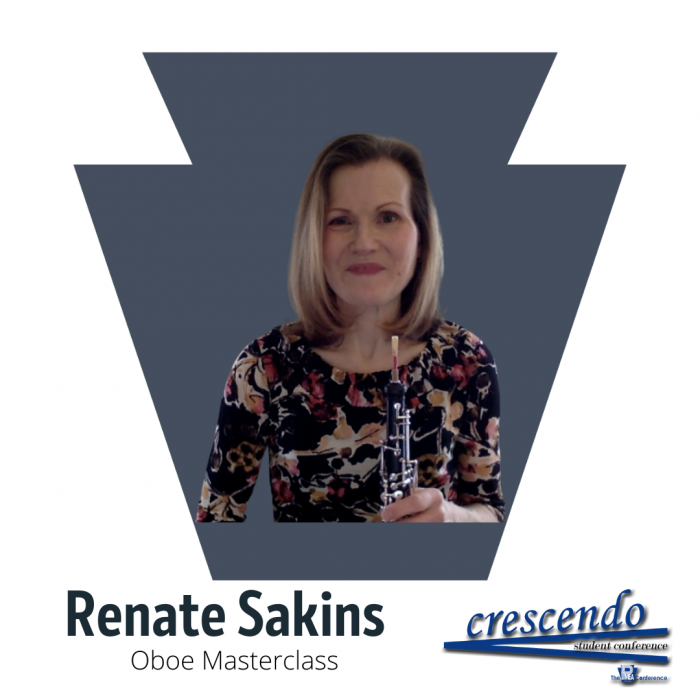 Oboe Focus: Assess your Fundamentals
A live masterclass on Zoom. Participants are encouraged to have their oboes ready to play as the instructor leads a "check-up" on fundamentals. A special topic, harmonic fingerings, will also be presented.
Ms. Sakins will demonstrate and discuss the technique of fundamentals such as embouchure, tonguing, tone production and selected fingerings. Common problems will also be demonstrated. Each topic will have an activity, during which students will play (with mics muted), and assess their own technique. As a special interest topic, a couple harmonic fingerings will be demonstrated and taught.
Renate Sakins is Instructor of Oboe at Slippery Rock University, and an active freelance oboist and teacher. She is a member of the Renaissance City Winds, principal oboist with the Westmoreland Symphony, and 2nd oboist with the Akron Symphony. She has performed with the Pittsburgh Symphony, Columbus Symphony and many other regional ensembles.
Ms. Sakins holds a B.M. degree from Temple University and attended Carnegie Mellon University in the M.M. degree program. She teaches students of all ages and levels. In addition to Slippery Rock University, Ms. Sakins teaches at Johnstonbaugh Music Center, and has a private studio.