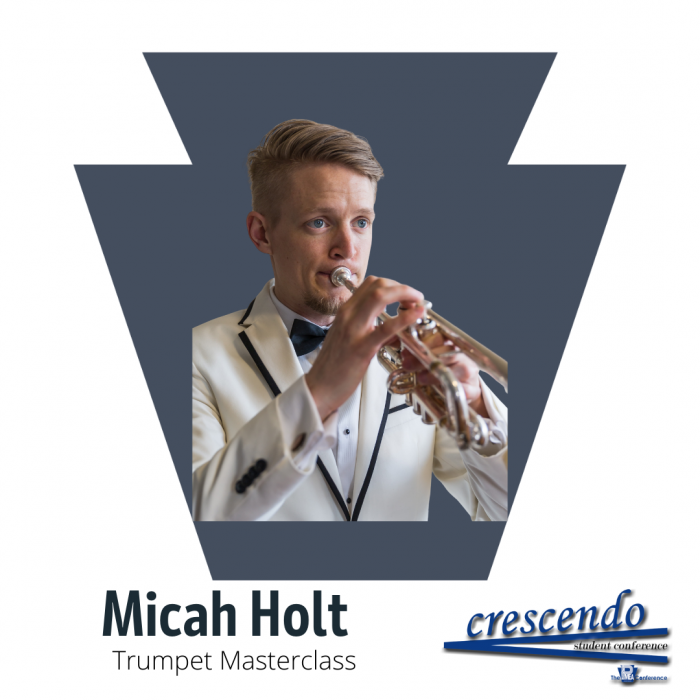 Trumpet Fundamentals
Do you find your day to day performance to be inconsistent? Do you wish you could play higher or longer? Do you want to be a better trumpeter? If yes, this session is for you! We will discuss what fundamentals are and how to develop them in order to improve your trumpet skills.
First, fundamental areas of performance will be identified. Once identified, ideas, tools, and material for developing these areas will be discussed.
Dr. Micah Holt is a dynamic performer and educator. He serves as Principal Trumpet with the Northeastern Pennsylvania Philharmonic, section trumpet in the Erie Philharmonic, section trumpet with the West Virginia Symphony, trumpet with The Brass Roots and Trumpet Instructor at Slippery Rock University. In addition to his permanent positions, Dr. Holt performs regularly with the Pittsburgh Symphony, Charleston (SC) Symphony, Akron Symphony, Canton Symphony, Wheeling Symphony, CityMusic Cleveland and formerly with the New World Symphony.
Dr. Holt is currently based out of Pittsburgh, PA. He received his BA at the University of Northern Colorado, MM at the University of Louisville, DMA at the University of Nevada, Las Vegas, and an Advanced Musical Studies Certificate at Carnegie Mellon University. His primary teachers include Neal Berntsen, Micah Wilkinson, and Justin Emerich.