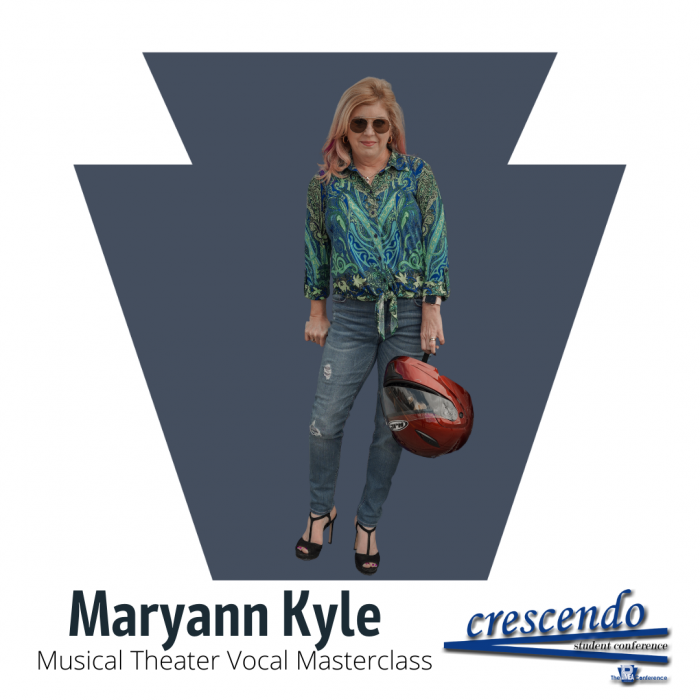 Explore, Experiment and Enjoy: How to make your practice and performance fun for you!
Effective performance begins with allowing yourself to connect to your music emotionally and creatively before a performance. But often our vocal technique feels more confining than creative. Dr. Kyle will share tips for the solo singer that facilitates strong vocal technique, but takes you to a place of creative experimentation. Now technique is creative, emotional and communicates your journey! Musical theatre, art music and popular music soloists are all encouraged to participate and sing!
Master class setting with a number of solo singers (with accompaniment tracks or pianist) who will be willing to work with the presenter on engaging and meaningful performance of their pieces. Solo music welcomed in all styles or genres; art music, musical theatre, commercial
In demand as one of the finest vocal teachers of belt, legit and classical vocal technique, Maryann Kyle has dedicated her professional life to guiding singers and teachers in their pursuit not only of exceptional singing, but also captivating performance. In addition to her active studio of performers she also actively mentors over thirty teachers of voice and theatre in various universities across the United States, and her students can be found on the stages of the finest opera and musical theatre companies, conservatories and training programs across the globe.
​Kyle remains an active performer of multiple genres of music and has shared the concert stage with some of world's greatest artists including Denyce Graves, William Warfield, Timothy Noble and Marietta Simpson. She has appeared as a soloist on the pop music stage with famed artists Patti Labelle, Patti Austin, Dionne Warwick, Ann Nesby and Vesta Williams. Kyle's one-woman-show, Sondheim in the City, premiered in NYC at the Laurie Beechman Theatre/West Bank Café in 2011 followed by her concert entitled Apparitions and her upcoming recital, Reminiscence presented by Opera Mississippi.
Specializing in the teaching belt, power belt and high belt technique, Kyle has had a tremendous success in training singers and teachers in the best and healthiest use of their voice, and in integrating the function of singing with their character and physical acting process. In addition, she has developed a curriculum in musical theatre and commercial music pedagogy and literature which she presents as a part of the Alabama School of the Arts Artistic Development Series and the International Performing Arts Institute Teaching Fellowship.  This acoustically sound training for athletic vocal technique and style is easily connected to classical vocal training while maintaining an authentic musical theatre and commercial music sound.
Kyle's students have performed leading roles with New Orleans Opera, Seattle Opera, Oper Frankfurt, Oper Berlin, English National Opera, Virginia Opera. San Francisco Opera, Cincinnati Opera, Chicago Opera Theatre, Sarasota Opera, Los Angeles Opera, Florida Grand Opera and St. Louis Opera Theatre to name a few.  They have also garnered numerous awards including top placements in national and international competitions and apprenticeships with Seattle Opera, Lake George Opera Festival, Aspen Festival, Tanglewood Music Festival, Ohio Light Opera, Brevard, Wolf Trap, Ashlawn Opera, Opera North, Utah Festival Opera, Opera Saratoga, Sarasota Opera, Des Moines Opera, Chautauqua Opera, Central City Opera, Savannah VOICE Festival and continue to pursue their studies in major conservatories and schools including Juilliard, Indiana University, San Francisco Conservatory, Boston Conservatory, Manhattan School of Music, Cincinnati Conservatory, Oklahoma City University, Florida State University, Fordham University, Louisiana State University, the University of Illinois and New England Conservatory of Music. 
In 2018, Kyle joined the faculty of the Alabama School of the Arts at the University of Mobile and Chair of Graduate Studies as well as a Professor of Music.  She maintains a sizable graduate studio while continuing an active schedule of master classes, workshops and teacher training programs.  Kyle is the director of the Teaching Fellowship Program with the International Performing Arts Institute and is looking forward to the launch of the MK Teacher Retreat Weekends in 2021.  In her free time, Kyle enjoys riding her Yamaha V-Star 950 motorcycle, gardening, spending time with friends and mothering her five shih tzu pups.