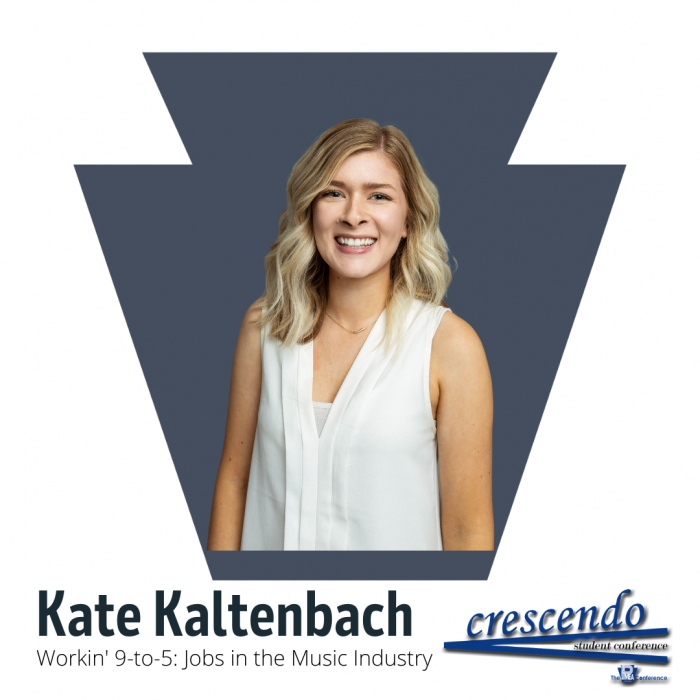 Workin' 9-to-5: Jobs in the Music Industry
We're all familiar with the artists and music we love, but behind the scenes there is an entire industry that supports getting the music to your ears or a stage near you. Hear about various roles in the music industry and learn a bit about how country music's contributions have shaped this ecosystem.
Presentation will consist of a brief history of country music/CMA, followed by a look into the various careers in the music industry (specific to Nashville's music ecosystem). I'll also include some general advice and best practices on "getting your foot in the door" in a historically competitive industry.
As Manager, Membership Engagement on the Community Outreach team at CMA, Kate Kaltenbach leads engagement and education efforts as they relate to membership. This includes membership-specific research, planning professional development, and planning membership communication. Additionally, Kate manages day-to-day operations for CMA's collegiate professional development program, CMA EDU. This program aims to develop student leaders and equip them with the tools to succeed in the music industry and beyond. With this program, CMA's goal is to invest in the next generation of business leaders and CMA members. Throughout 2020 to present, Kate has also been managing CMA's Music Industry COVID Support (MICS) initiative, ensuring the music industry has the resources it needs to survive and thrive past the pandemic.
Having grown up in and around the entertainment industry, Kate has helped fairs, festivals, colleges, and other events develop a high-quality entertainment program through her family business, Klein's Entertainment, which was started in 1930. Klein's provides full-service booking and event consultation to many events around the country.
Kate graduated from The Ohio State University in 2017 with a Bachelor's of Science in Business Administration with a specialization in Marketing and a minor in Music, Media, and Enterprise.