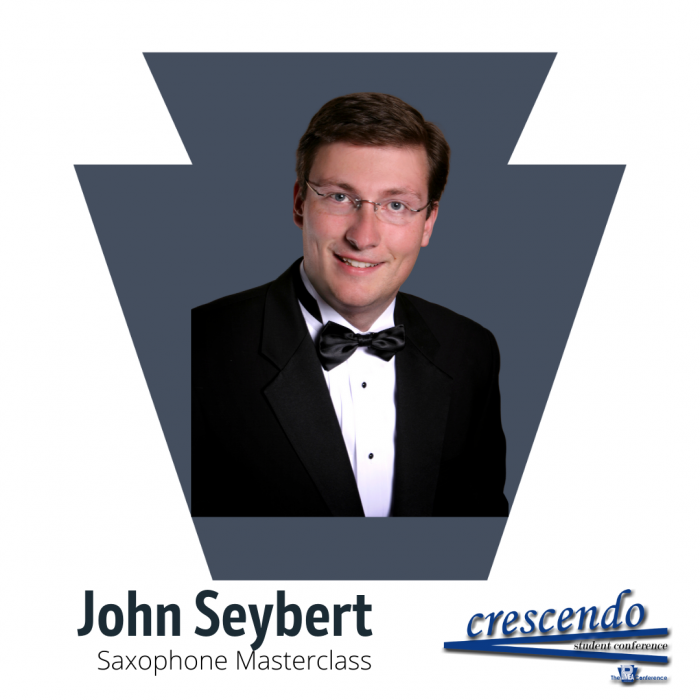 Saxophone Master Class
This masterclass will provide practical tips to improve your level of performance. We will discuss methods to enhance your practice sessions, warm-up routines, repertoire, and resources for all saxophonists.
We will discuss topics in the masterclass that include but are not limited to the topics listed below: Saxophone Assembly and maintenance, Posture, Breathing and Breath flow, Embouchures for playing the saxophones, Daily Routines for practicing the saxophone, Articulation, Technique: Practice patterns for scales, Equipment: Instruments, Mouthpieces, Reeds, Ligatures, Neckstraps, as well as Resources (Recordings (Listening), Websites, Books (CDs and DVDs) for Saxophonists.
John M. Seybert, Ph.D., serves as the Performing Arts Curriculum Leader and High School Director of Bands in the Upper St. Clair School District. Seybert served as Professor and Coordinator of the Music Education Program at Seton Hill University, Greensburg, PA. He received a Doctor of Philosophy degree in music education from the Indiana University Jacobs School of Music in Bloomington, IN, with an emphasis in Music Education and minor areas of concentration in Saxophone Performance, Jazz Studies, and Wind Conducting. Seybert studied saxophone with Otis Murphy, Tom Walsh, and George Wolfe. He also studied conducting with Stephen Pratt and Ray Cramer. Seybert also served as the Performance Development Coordinator for the Race to the Top Performing Fine Arts Assessment Project for the state of Florida. Seybert served as Research Reviewer for the National Core Arts Standards (NCAS, 2014), President of the Florida Collegiate Music Educators Association (FCMEA), member of the Florida Music Educators' Association (FMEA) Executive Board, and Vice President of the Florida Jazz Educators Association (FJE).
In terms of professional experience, Seybert taught in nationally renowned high school and collegiate bands programs throughout the country. For example, Seybert served as Assistant Director for the Lawrence Central High School Marching Band in Indianapolis, IN. The Lawrence Central High School Marching Band won consecutive Indiana State School Music Association (ISSMA) Marching Band Championships and consistently placed in the top ten of the Bands of America (BOA) National Championships during his tenure. Seybert's concert and jazz ensembles received consistent superior ratings at local, state, and national festivals. His ensembles performed for state inaugurations and national events with President George W. Bush, Condoleezza Rice, Robert Gates, and Governor Tom Ridge. Seybert's ensembles also toured internationally and performed for dignitaries such as the Prince of Monaco. He also serves as a district consultant and clinician for band and performing arts programs. Seybert is an adjudicator/clinician for state festivals throughout the country including the Florida Bandmasters Association (FBA) State Solo and Ensemble Festivals. He also serves as guest conductor for the Florida Bandmasters Association Honor Bands as well as numerous regional and state honor ensembles.
Seybert has been cited for "Effective Teaching and Scholarship" by Seton Hill University; "Outstanding Research and Scholarship," by the University of Oxford Round Table; "Outstanding Service to the Community" by the Florida Bandmasters Association; an "Outstanding Instructor" from the School of Education at Indiana University in Bloomington; recipient of the State of Indiana's "Top Twenty-Five Teacher Award" and the "Superintendent's Award for Excellence in Education." He has also toured internationally and performed with the Chuck Magione, Bobby Shew, The Four Freshman, Chris Vadala, Michael Philip Mossman, Jamey Aebersold, Antonio Hart, among many others. Seybert has published research in The Journal of Research in Music Education and other peer-reviewed publications in music and education.
John and his wife Misty are the proud parents of two children, Amelia and Claire.