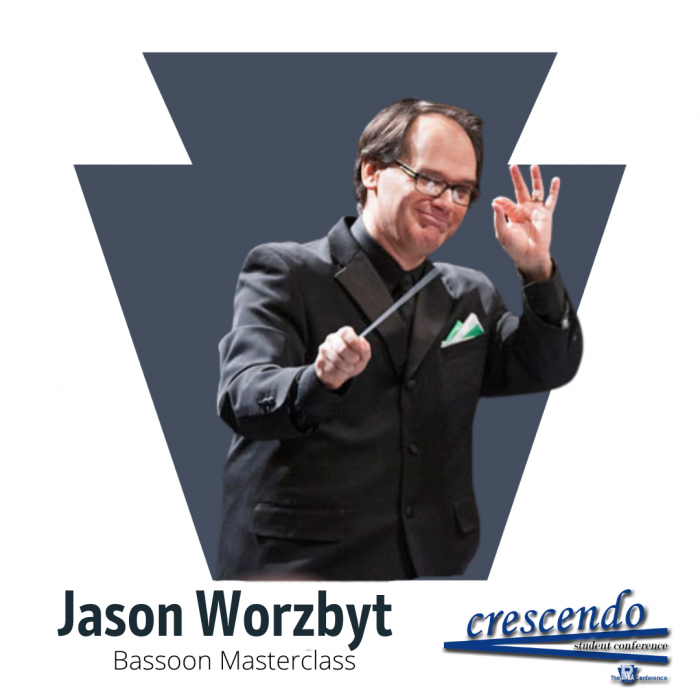 Mysteries of the Bassoon Revealed!
This session will detail the fundamentals of bassoon playing, including posture, embouchure formation, articulation, intonation, and specific technical challenges unique to the bassoon.
During this session, the fundamental principles of the bassoon will be presented in a sequential series of topics, with the goal of introducing and/or reinforcing techniques leading to successful bassoon playing. These include: posture, instrument support systems, embouchure formation, articulation, the reed as a separate instrument, instrument position, intonation, projection, and specific digital techniques unique to the bassoon.
Dr. Jason Worzbyt is Professor of Bassoon and Associate Director of Bands at Indiana University of Pennsylvania. He holds a B.S. in Music Education from Indiana University of Pennsylvania, a Master of Music in wind conducting from the University of North Texas and a Doctor of Musical Arts degree in bassoon performance from the University of North Texas. Dr. Worzbyt has studied bassoon with Kathleen Reynolds, principal bassoon of the Dallas Opera Orchestra and professor of bassoon at the University of North Texas; Kristen Wolfe Jensen, professor of bassoon at the University of Texas; David T. Borst, professor emeritus of bassoon at Indiana University of Pennsylvania, and James Rodgers, principal contrabassoon of the Pittsburgh Symphony. His conducting teachers include Jack Stamp, director of band studies emeritus at Indiana University of Pennsylvania and Eugene Migliaro Corporon, director of wind studies at the University of North Texas.
Dr. Worzbyt has performed, recorded and has been featured as a soloist with wind ensembles and orchestras all across the country. These ensembles include the Keystone Wind Ensemble, IUP Wind Ensemble, North Texas Wind Symphony, North Texas New Music Ensemble, Lexington Philharmonic Orchestra, Johnstown Symphony Orchestra, Highland Wind Quintet and the IUP Faculty Woodwind Quintet. In 2001, Dr. Worzbyt gave the world premiere of Bruce Yurko's Concerto for Bassoon and Wind Ensemble with the Keystone Wind Ensemble at the College Band Directors National Association conference. From 2006 to 2009 he was a member of the artist-faculty at the Western Chamber Music Institute hosted by Western State College in Gunnison, Colorado. Additional performances include several recitals at meetings of the International Double Reed Society. In March of 2013, Klavier Records released a compact disc recording (Five in the Sun) by the Keystone Chamber Players of which Dr. Worzbyt is a member. Most recently, Dr. Worzbyt premiered and recorded Bruce Yurko's Concerto No. 2 for Bassoon and Wind Orchestra in October of 2014. During his 22 year tenure at IUP, he has performed with many of the regional orchestras in western Pennsylvania, including the Johnstown Symphony, Altoona Symphony, Westmoreland Symphony, and Butler Symphony. He is currently the principal bassoonist of the Altoona Symphony.
As a guest conductor, Dr. Worzbyt has worked with elementary, junior high, senior high, and professional ensembles in Pennsylvania, New York, New Jersey, Maryland, Virginia, Indiana, Georgia, and Kentucky. Highlights of these appearances include all state ensembles in Pennsylvania, Indiana, New Jersey, as well as county, district, and regional bands throughout Pennsylvania. From 2007 through 2013, he was music director and conductor of the Westmoreland Symphonic Winds, a professional wind ensemble in residence at Seton Hill University. Committed to music education in the state of Pennsylvania, Dr. Worzbyt is currently the Band Content Area Representative for the Pennsylvania Music Education Association. He formerly served as President and Higher Education Representative of PMEA District 3, and continues to serve this organization as an adjudicator, guest conductor, and clinician. He has also authored several study guides for the Teaching Music Through Performance in Band, Middle School Band and Beginning Band series published by GIA. Dr. Worzbyt lives in Indiana, PA with his lovely wife Michelle, a Presbyterian pastor, and very active eleven-year old, Christian James.