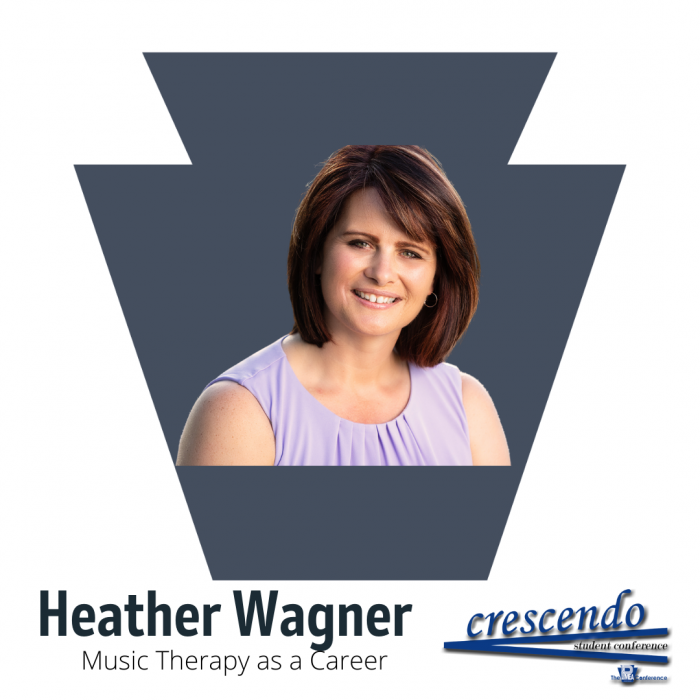 Music Therapy as a Career
Are you interested in music therapy but uncertain what it is and how to become one? Join a board-certified music therapist to learn about training, education, and career opportunities in this growing field.
Though the roots of the use of music in healing go back to ancient times, music therapy has been a formally recognized profession in the United States since 1950. What began as treatment to support veterans returning from war has expanded to a recognized healthcare field that has the ability to impact individuals across the lifespan. Heather Wagner, a board-certified music therapist and music therapy educator, will present the foundations of music therapy practice, the educational requirements to become certified, and the clinical applications of music therapy in a variety of settings. Practical suggestions for how to prepare to study music therapy and how to choose an academic program will be explored.
Heather J. Wagner, PhD, MT-BC studied music therapy at Slippery Rock University of Pennsylvania and Temple University. Currently a resident of Connecticut, she has varied clinical experience, including forensic psychiatry, acute psychiatric care, cancer care, hospice/palliative care, children and adolescents with behavior and emotional disorders, trauma, Autism spectrum disorder, brain injury, rehabilitation, and wellness practices. In addition to her clinical practice, she is an Assistant Professor at SUNY New Paltz and has experience teaching music therapy at the Hartt School of the University of Hartford, Berklee College, Temple University, and Molloy College. She serves on both national and regional levels for the American Music Therapy Association Board of Directors, and is chair of the Connecticut State Task Force in proposing state legislation for music therapy licensure. Heather also is a freelance musician throughout Connecticut in a variety of performing ensembles.