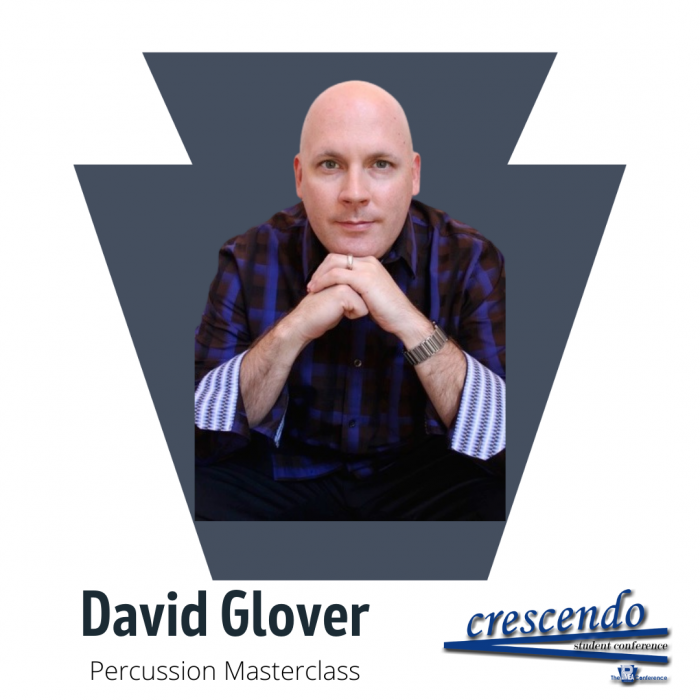 Percussion Masterclass
Students will be provided a masterclass on concert percussion as it applies to college and professional environments. Dr. and Mrs. Glover will answer questions from the students about what to expect as a percussionist in these two settings.
This presentation will describe some of the myriad skills and techniques required of the modern concert percussionist in both college and professional settings. Demonstrations of modern techniques used to create good sounds on common percussion instruments, tips and tricks for navigating the percussion section, common pitfalls of the young percussionist, and how to transfer all of this information into a solid audition, all will be explored during this session. Participants will be encouraged to interact with the presenters and ask questions freely throughout.
Dr. David Glover is the Associate Professor of Percussion at Slippery Rock University, where he teaches applied lessons, Percussion Ensemble, music history, percussion methods, Jazz Lab Band, and the World Percussion Ensemble. He earned music degrees from The University of North Florida (B.A.E), The Florida State University (M.M. and M.M.E.), and the University of Texas at Austin (D.M.A.).
A drummer and percussionist since he was 10, Glover has garnered a wide range of musical influences from jazz and classical music, to rock and Afro-Caribbean styles. Dr. Glover has played with a variety of talented artists including, Arturo Sandoval, Joe Williams, Phil Woods, The New York Voices, Bob Brookmeyer, Peabo Bryson, Bill Watrous, Rick Margitza, Toshiko Akiyoshi, Nancy Wilson, Ivan Lins, and the Pittsburgh Symphony Orchestra.  He can be heard on recordings from, The Wash, Latin Attitude, The University of Texas Jazz Orchestra, the acoustic jazz quartet Odd Man Out(Viewpoint Records), The Three Rivers Jazz Orchestra (SeaBreeze Records), Lisa Ferraro, Azucar, The Balcony Big Band, and Sheryl Bailey's New Pomise (MCG Jazz). In the Pittsburgh area he can be seen playing drum set with the Balcony Big Band, playing timbales with the salsa ensemble Azucar, and freelancing as a drumset and percussion artist. 
As an educator Dr. Glover has given clinics, masterclasses, lectures, adjudications and performances at many different state, national and international conferences and conventions. He teaches advanced high school percussionists out of his home studio, many of which have gone on to All-State honors, college music programs, graduate schools, performing and touring groups, and many have become successful music educators as well. In 2015 he was awarded the PMEA District V Citation of Excellence. Additionally, he has had two article published in Modern Drummer magazine. Dr. Glover belongs to several professional organizations including, The Percussive Arts Society (served as PA Chapter President for 6 years), Pi Kappa Lambda, ASCAP, The Pennsylvania Music Educators Association, and The College Music Society.  Dr. Glover is a proud endorser of SABIAN cymbals, Innovative Percussion mallets and drumsticks, REMO drumheads, and Pearl/Adams drums and percussion.