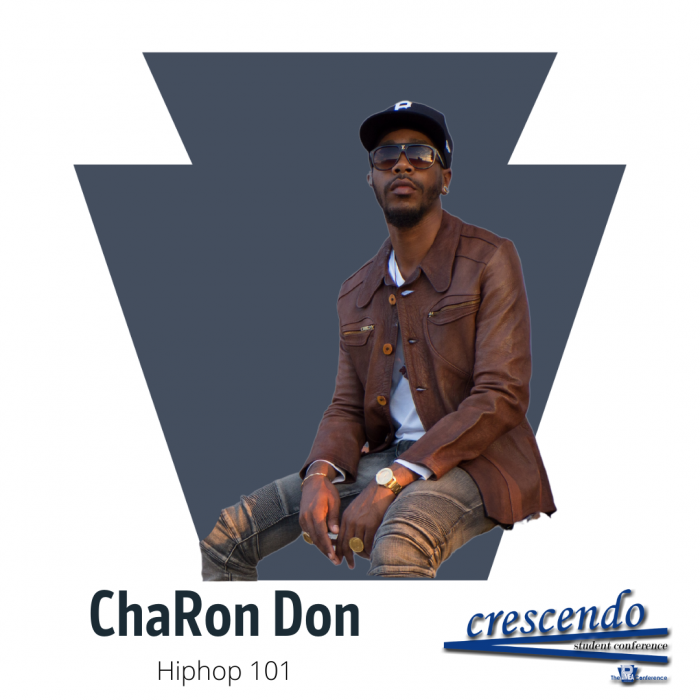 HipHop 101
A hands on experience to creating an original chorus for HipHop track. Writing, Rapping and singing are all welcome.
International HipHop Recording and Performing artist/emcee ChaRon Don will share some of the fundamental steps in creating a HipHop track. from brainstorming, writing to performing this session will take u into the process of organizing and expressing yourself using rhymes and style. Come help with lyric writing by providing your own unique ideas and talents. All talents welcome.
A Hiphop advocate, educator and emcee, Pittsburgh native ChaRon Don has acquired the type of independent success that is only achieved through hard work, and honing your creativity. Over two decades of writing, recording and performing, this emcee finds himself as both student and teacher within the Hiphop culture, keeping him fully attentive to the role he plays within it. A Brilliant songwriter, performer and international recording artist ChaRon Don has shared stage and recordings with a countless amount of both local and national musicians. An artist not afraid to adapt to change he finds his level of comfort somewhere between education and entertainment. Using word and sound as his instruments, His style of Rap is made up of True lyricism and Intention. Building a supportive fan base has been an ongoing mission since his first works independently released in Highschool in the late 1990s. This mission has kept him inspired not only online but in person in his day to day life.
ChaRon Don is part of a rap duo alongside DJ Huggy as group "Handsdown" as well as a 4 man super group "JuJu Mob".  ChaRon's subject matter is as flexible as it is expressive ranging in sounds of highly competitive bars to braggadocios, to positive message music for his people and culture. With over five years of experience as teacher artist for Carnegie Mellon Universities "Urban Hiphop Program", ChaRon empowers the youth in Pittsburgh public schools from 3rd grade level to college, teaching the process of creating Hiphop Music. This sharing of technique and skill is a driving force to why ChaRon Don continues to build bridges between community and school. A world traveler who has visited over 10 countries carrying pieces of each place within his lifestyle thus creating a perspective which goes far beyond his small industrial city hometown. 
Most recently ChaRon Don has been working on his most grand project to date, his 7th solo album "Watching You Watching Me" a visual album/short film composed of 10 music videos. Though opportunity and success have not been foreign in the career of ChaRon Don up to this point , ChaRon feels he has a lot more work to do both on the stage and in the classroom. Though its been years of sacrifice and dedication he feels he is just getting started. With this type of gift, grace and gratitude in music we can only imagine the next brick that is to be laid upon the legacy he is building.