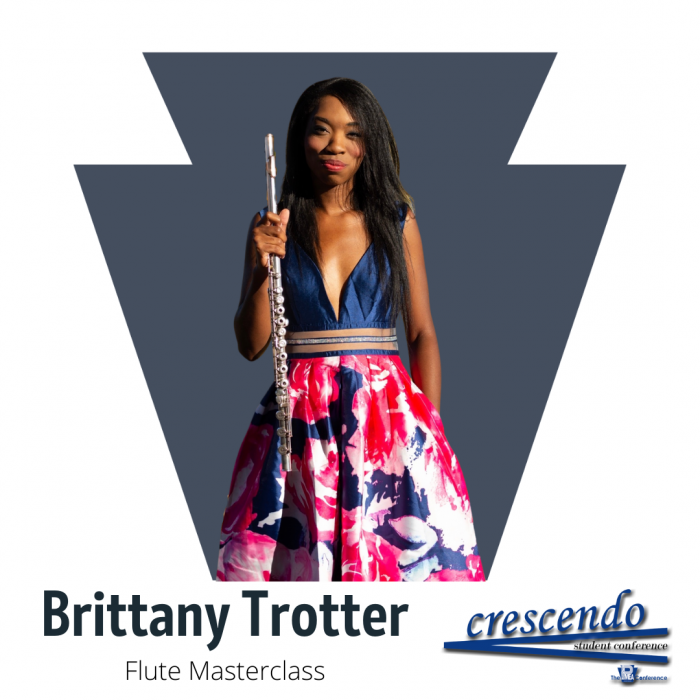 Flute Tips and Tricks
Join Dr. Brittany Trotter for a interactive master class designed to help you develop better tone and technique on the flute.
Prize-winning flutist Dr. Brittany Trotter leads a versatile and fulfilling career as a solo and orchestral performer, chamber musician, and educator. Dr. Trotter has been awarded first prize in numerous national and regional competitions including the Music Teacher National Association Young Artist Competition in woodwinds in the states of West Virginia (2017, 2016), Wyoming (2015, 2014), and Mississippi (2014).

Dr. Trotter has performed and presented at regional and national flute conventions including the Southern Flute Festival, Kentucky Flute Fair, Florida Flute Association Convention, Society of Greater Philadelphia Flute Fair, Rochester Flute Fair, Mid-Atlantic Flute Fair, and the National Flute Association Convention. She has played with the Johnstown Symphony Orchestra and the Westmoreland Symphony Orchestra. An advocate of new music, she enjoys working with emerging composers, commissioning, and premiering new works. Her involvement with new music ensemble, Alia Musica, has resulted in regional and world premieres in Pennsylvania and West Virginia.

In addition to her extensive performance experience, Dr. Trotter has presented her research and pedagogical insights at numerous conferences with topics ranging from "hAPPily practicing," "Beatboxing 101," to specialized topics like "The Flute Works of Valerie Coleman." Recently, Trotter was named a winner of the National Flute Association's 2020 Graduate Research Competition and WVU's Mary Ferrer Award for her doctoral dissertation, "Examining Musical Hybridity and Cultural Influences in Valerie Coleman's Wish Sonatine and Fanmi Imèn".

Equally committed to the advocacy of music education and community engagement, Dr. Trotter engages with low-income black and multicultural youth through her position as the Flute Teaching Artist at the Hope Academy of Music and Art, and as the Program Coordinator of the Hip Hop Orchestra Summer Music Camp. Trotter is also actively involved in the non-profit sector. She serves as the publicity chair for Flute New Music Consortium and is the Junior High Competition Coordinator for the National Flute Association where she also serves on the Career and Artistic Development Committee.

Currently, Dr. Trotter serves on the faculty of Dickinson College and West Virginia Wesleyan College as Instructor of Flute. She also serves on the musicianship faculty at Duquesne University where she instructs a course in the history of hip hop. As primary and secondary music educator, Dr. Trotter maintains a vibrant private traditional and Suzuki flute studio in the greater Pittsburgh area and teaches beginner woodwinds at Waldorf School of Pittsburgh.

Dr. Trotter holds a Doctor of Musical Arts and a certificate in University Teaching from West Virginia University. She also holds a Master of Music degree from the University of Wyoming, and a Bachelor of Music and Bachelor of Music Education from the University of Southern Mississippi. Her former teachers include Nina Assimakopoulous, Dr. Nicole Riner, and Dr. Danilo Mezzadri.

Outside her professional performing and teaching life, she enjoys running, crafting, and reading.