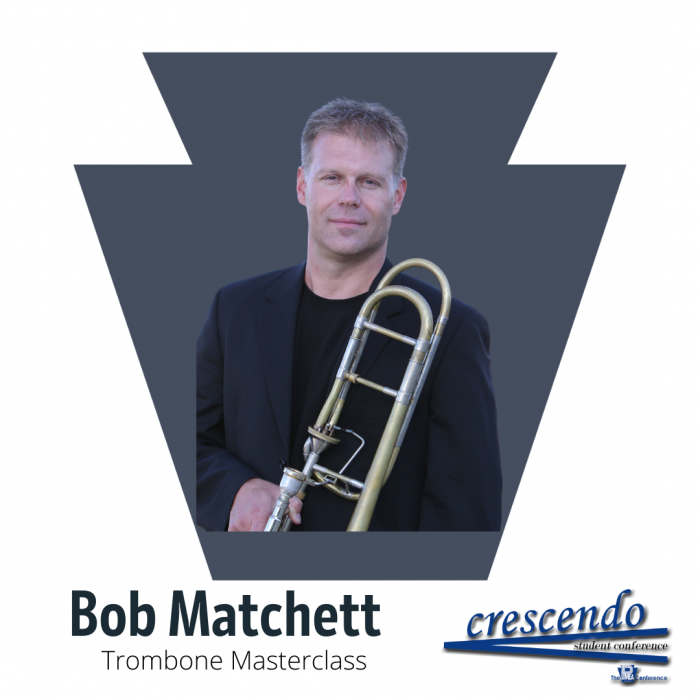 Trombone Masterclass
Finding "Joy/love" in practicing the trombone. What fundamental aspects get in the way of us enjoying the process of growing and improving on the horn? We will explore how to approach each and every practice session, making a practice session productive and comprehensive.
Mr. Matchett is a director of bands at Seneca Valley Senior High School in Harmony, PA.  At Seneca Valley, Mr. Matchett conducts the Wind Ensemble, Concert Winds, Symphonic Band, Jazz Ensemble I, and assists with the "Raider" Marching Band.  Additionally, he teaches AP Music Theory, Basic Music Theory, Jazz Improvisation and low brass lessons.  The Seneca Valley Wind Ensemble has had a long time reputation as an ensemble committed to excellence.  During his 21 years at Seneca Valley, Mr. Matchett's ensembles have always received Superior and "1" ratings at adjudications and festivals.  The Seneca Valley Wind Ensemble has performed all across the United States and been featured at the NAfME All-East Music Festival and the PMEA All State Festival.   Additionally, The Seneca Valley Jazz Ensemble 1 has performed three times at the PMEA All State Music Conference.
Mr. Matchett is a freelance trombonist who has performed and toured with many groups including: the Glenn Miller Orchestra, Tony Bennett, Ray Charles, Rosemary Clooney, Toshiko Akiyoshi, The Temptations, The Pittsburgh "CLO" Broadway Series, The Cincinnati Symphony Orchestra, The Pittsburgh Symphony Orchestra, Kristin Chenoweth, Frankie Valli and the Four Seasons, Youngstown Symphony Orchestra, The Altoona Symphony, Warren Chamber Orchestra, Cleveland Jazz Orchestra, and numerous others.  Mr. Matchett has also had the privilege of recording with Nancy Wilson (where he can be heard on the Grammy Award winning album, "Turned to Blue"), the New York Voices, the Three Rivers Jazz Orchestra, and the Cleveland Jazz Orchestra.  His playing can be heard frequently on the Emmy Award winning WQED series, "Live from Studio A".  Robert is a founding member of the Pittsburgh Trombone Project and The Bone Forum.Recently, Mr. Matchett has been featured as a soloist at the following events/venues: Central Valley Jazz Festival,  PMEA All-State Music Conference, Penn State University Trombone Labor Days, Slippery Rock University Jazz Festival, Seton Hill University, Westminster College, Grove City College, WD Packard Band, Youngstown State University, Mercer Community Band, Pittsburgh Jazz Society, Westmoreland County Jazz Society, and many others. 
Mr. Matchett has been on the faculties at Youngstown State University, Westminster College, Thiel College, Slippery Rock University, and Messiah College.
Mr. Matchett received his BME and MM degrees from Youngstown State University and done additional studies at Ithaca College, Messiah College, and the Eastman School of Music.