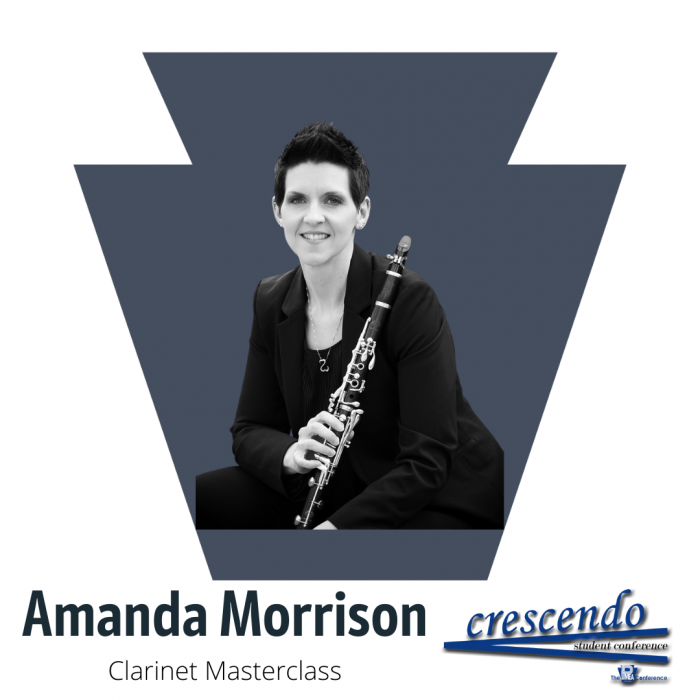 Unlocking the 3 T's of Clarinet (Tone, Technique, and Tonguing)
Want to take your clarinet playing to the next level? Solid fundamentals are the key! Unlock your clarinet potential by exploring tips, exercises, and strategies to advance your fundamentals and to sound your very best.
In this interactive session, Dr. Morrison will unlock the key to beautiful clarinet playing: solid fundamentals. The basic fundamentals of clarinet playing are built on "3 T's" – tone, technique, and tonguing. Let's build these skills together! Through practically exploring tone, finger technique, and articulation exercises, we will learn methods to build a strong basis for clarinet performance. Every participant will receive an extensive warm-up and exercise packet that will be used during the session. Join other enthusiastic clarinetists to play together, expand your clarinet knowledge, and unlock your playing potential!
Amanda Morrison is on faculty at Slippery Rock University and is a private clarinet instructor in Pittsburgh, PA. She has served on the staff of Fairmont State University, West Liberty University, Florida State University, and Gulf Coast Community College.  Morrison is also a Vandoren Artist-Clinician and Event Director of Steel City Clarinet Day (www.steelcityclarinetday.com). As a performer, Amanda has given performances and lectures at the International Clarinet Association's ClarinetFest, the NACWPI National Convention, the Music by Women Festival, the West Virginia Music Educators Association Conference, the American Musicological Society's National Conference, and numerous colleges and universities throughout the United States. She is a founding member of the Milano Duo clarinet ensemble and the PM Woodwind Project flute and clarinet duo. Morrison's research focuses on the music of clarinetist/composer Eric Mandat, publishing numerous articles on his life and works in the Clarinet Journal, NACWPI Journal, and Vandoren WAVE. Ms. Morrison has been a clarinetist with the Westmoreland Symphony Orchestra, Tallahassee Symphony Orchestra, Butler Symphony Orchestra, and the Shenandoah Valley Bach Festival. Dr. Morrison earned a BM degree from Duquesne University and MM and DM degrees from Florida State University with Mark Nuccio, Dr. Deborah Bish, and Dr. Frank Kowalsky.