2023 All-State Concert Band Information
All-State Concert Band Seating Information
All-State seating audition for Concert Band/Wind Ensemble opens Monday, March 27 at Noon and will close at Noon on Tuesday, April 4. Please use the links below to access the audition excerpt information & Submittable application:
All students are encouraged to submit a seating audition. Those who do not wish to receive a ranking will be seated last.
2023 Vendors
Forms and Information
Conductor's Notes
Concert Band Listening Links
All-State Social Media Tile
Right click on this image and download it to share on your social media to celebrate being selected as an All-State Musician.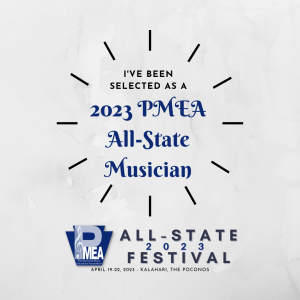 Concert Schedule