2023 All-State Chorus Information
Congratulations to all students who qualified for the 2023 PMEA All-State Chorus Festival. The All-State Seating Audition Window for Chorus is now closed. Audition results will be released on Wednesday, April 19 at 9:30 p.m.
2023 Vendors
Forms and Information
Conductor's Notes
Dear Singers,
We will sing Tuba as written, in E-flat. As a reminder, a group of T2 and B1 singers will sing the "solo" part, which functions as the caller.  How to transition into Namhla Kudibene:
Please go from the end of Tuba directly to m. 34 of Sanbonani/Namhla. (This means you will skip the opening section, going directly to the "Namhla" section). 
The final measure of Tuba will crescendo, and go directly into the solo line of Namhla Kudibene (starting at m. 34).
VERY IMPORTANT- Please learn Namhla Kudibene UP A WHOLE STEP.  

We will come out of Tuba, where E-flat is the tonic (or do). 
The solo line in Namhla will begin ON E-FLAT, which becomes the fifth (or sol) of the new key, A-flat major. 
Please note that Namhla is written in G-flat, so we will sing it up a whole step from where it is written.  All tenors and baritones for whom the solo line is comfortable, please learn the solo line, as well as your own part, and we will assign a group of tenors and some baritones to this solo line as well. 
As a reminder, the video below shows how the transition works, and how the movement works: https://www.youtube.com/watch?v=JTUVnWYScP8  Note that in the video, they are performing the TTBB version, which is written in D-flat major, down a whole step from the SATB version we will perform, written in E-flat major (ending in A-flat major).
Chorus Listening Links
All-State Social Media Tile
Right click on this image and download it to share on your social media to celebrate being selected as an All-State Musician.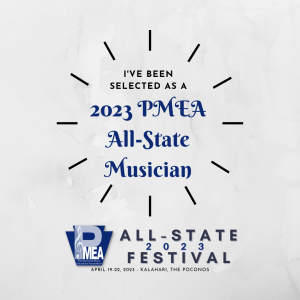 Concert Schedule
The All-State Concert Schedule is as follows:

All-State Vocal Jazz & Jazz Ensemble, Friday, April 21 at 7:30 p.m. (Pocono Mt. West HS)
All-State Chorus and Wind Ensemble, Saturday, April 22 at 10:30 a.m. (Kalahari Convention Center)
All-State Concert Band and Orchestra, Saturday, April 22 at 3:30 p.m. (Kalahari Convention Center)
Concert tickets are now available for purchase.