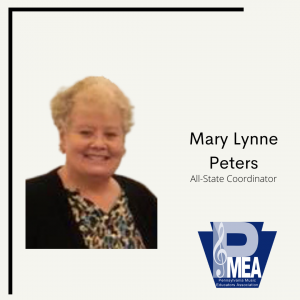 Mary Lynne Peters has been the All-State Festival Coordinator for PMEA since 2012. Retiring from her Alma Mater, Meadville Area Senior High School (Crawford Central School District), Ms. Peters believes this position with PMEA has come "full- circle". She participated in numerous PMEA Festival Events as a student and then as an educator. 
Mary Lynne holds an undergraduate degree in Music Education from I.U.P, a Master's Degree in Education from Allegheny College and a Certificate in Arts Management from Central Connecticut State University. 
She continues to be actively involved in her community as Vice-President of the Meadville Lions Club and is also President of the Crawford Central Community Foundation which provides funding to students and their teachers in the Crawford Central School District for academic, athletic and artistic pursuits. Mary Lynne still finds time to participate in musical endeavors which include violin, piano and voice.
Mary Lynne appreciates the opportunity to work with everyone involved in PMEA.