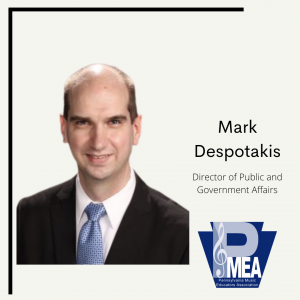 Mark Despotakis is the Director of Public and Government Affairs for the Pennsylvania Music Educators Association. He handles the association's policy development and government relations efforts around music education issues, educates members about policy and advocacy, and works with a variety of parties to advance the association's mission of advancing comprehensive and innovative music education through promoting effective instruction, providing meaningful learning experiences, and ensuring impactful and equitable music engagement for all.
Previously Mark was the Director of Market Development at Progressive Music in Pittsburgh, PA where he handled marketing and finance for the company that focused on serving school music programs. 
Prior to working at Progressive Music, Mark spent time at CNN Newsource in Washington D.C. Currently, Mark serves on the SupportMusic Coalition Steering Committee, is a member of the Boards of Directors of the Education Policy and Leadership Center (EPLC), and Western Pennsylvania's Tournament of Bands, a member of the National Association for Music Education's Advocacy Leadership Force, and serves on the UniSound Pittsburgh Steering Committee. Previously he was a member of the NAMM Board of Directors and President of NAMM Young Professionals. He also teaches the woodwinds for the McKeesport Area High School marching band.
Mark graduated from Clarion University of Pennsylvania with a degree in Communication.