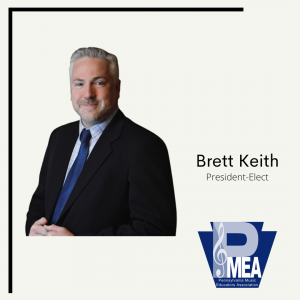 Brett Keith teaches choral and general music for Grades 6 through 12 at the Northern Bedford County School District. Prior to his tenure at Northern Bedford County, Mr. Keith taught instrumental, choral, and general music for grades 7 through 12 at Bishop Guilfoyle Catholic High School. Mr. Keith joined the faculty at Northern Bedford County in 2017 and teaches high school electives such as piano, music theory, guitar, and musical theatre performance and tech, in addition to teaching the high school concert choir, middle school choirs, Panther Select Choir and acted as interim marching band director.
Brett has been a member of the Pennsylvania Music Educators Association for his entire career as an educator where he has most recently served as President of District 6, and currently Festival Coordinator. He has also served on the PMEA State Board, the PMEA State Bi-law Review Committee, chaired the All-State Chorus Audition Excerpt Committee, served as the PMEA All-State Chorus manager, presided over numerous conference sessions, and is a member of the PMEA Strategic Planning Committee.
Mr. Keith leads the annual spring musical at Northern Bedford County High School and is a frequent guest conductor for musicals in the region and at local high schools, and also served as music director  for the feature film and 2008 New York City equity staged reading of Ghosts: The Musical at the York Theatre Company. As a performer, Brett has performed as a concert solo vocalist with various community and performing ensembles and theatre companies. Additionally, he is an active leader in both traditional and contemporary worship.
Mr. Keith is a graduate of The Pennsylvania State University, and is professionally associated with the Pennsylvania Music Educators Association, National Association for Music Education, and the American Choral Directors Association. Brett is a respected member of the Northern Bedford Community, where he also resides with his wife Shanda, and daughters Lyric and Aria.